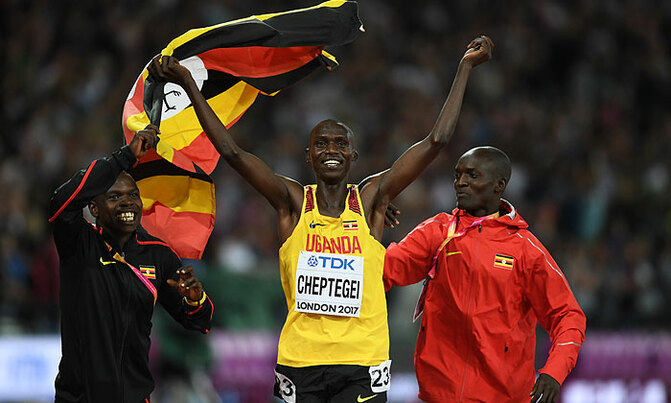 Joshua Cheptegei clinches a 10,000m silver medal at the IAAF World Championships in London.
Joshua Cheptegei celebrated winning silver in London with teammates on Friday night. (Photo credit: AFP)

IAAF WORLD CHAMPIONSHIPS 2017

By Joseph Kizza

LONDON - Uganda's Joshua Cheptegei ran the race of his life to clinch a silver medal in the men's 10,000m race, the last event of the opening day (Friday) of the IAAF World Championships 2017 taking place in London, UK.

Following a disappointing, topsy-turvy performance at the World Cross-Country Championships back in March in Kampala, redemption could never have come at a better time for Cheptegei.

He is now a World Championships silver medallist!

He crossed the finish line only micro-seconds behind the track-career-ending Sir Mo Farah of Great Britain in a crowd-lifting conclusion Friday night.

Farah, who won his 10th successive global title in all too-familiar fashion, burst past the finish line wide-eyed and with hands characteristically spread out in a new world leading time of 26:49.51 to win gold in front of a huge effervescent predominantly home crowd.

Cheptegei, who finished sixth in Rio in the same event last year, came within breathing distance in second with a personal best time of 26:49.94 while Kenya's Paul Tanui secured bronze with a time of 26:50.60 (season's best).
March 26, 2017 will arguably forever remain emblazoned in Cheptegei's memory however much progressive passage of time might try to fade it. The Ugandan long-distance athlete was only a lap away from winning gold in front of a buoyant home support at Kololo, only for his athletic body to shut down on him, and restricting him to a heartbreaking 30th-place finish.

But a little over four months down the road, the tall and youthful runner has proven just how determined he has been to put that frustrating World Cross-Country display just where it belongs - in the past.

On day one of the World Championships in London, Cheptegei quickly thrusted himself into the front of a 24-strong 10,000m lineup from the word go.

It was a very tactical race that had the East African runners, particularly the Ugandans and Kenyans, try to work together at the front of the huge pack to frustrate defending champion Farah.

They kept trading places at the fore in a bid to keep the British athletics legend at bay, knowing all too well the kind of threat he always carries on the track.
In the early stages of the race, Farah appeared uninterested by the conspicuous co-operation upfront, all the while deciding to run at his own pace at the back.

But as the runners ate away into the laps, and the end drawing ever nearer, the 34-year-old retiring distance runner, who looked the most at ease, thanks to his seemingly unlaboured style of running, squeezed his way to the front. Just where he loves to be.

His final 400m burst is well documented. It's a powerful one like no other. And once again, like so many times before, Farah took charge of the final lap, making sure to muscle off three marauding Kenyans and Uganda's Cheptegei.
Coming around the last bend, Farah and his closest challengers activated their after-burners as the full house packed inside the London Stadium roared into more life with every stride.

The home favorite got clipped twice on the inside edge but he did well to steady himself in an adrenaline-inducing finale. The end was nigh. No room for slip-ups.

Meanwhile, Cheptegei had done his timing well. If he couldn't beat Farah, then he sensed he definitely could outrun Tanui and Kenyan Bedan Michuri in the home straight. And he did just that, sprinting across the finish line for a deserved podium finish.
As soon as Cheptegei had secured the silver medal, he swiftly went down onto his knees to have a moment with the Omnipotent. To thank God for his achievement. To thank Him for carrying him through to that rare feat.

And how he proudly carried the Ugandan flag over his shoulders as he did his own lap of triumph around the track!
A little later on, during the medal-awarding ceremony, the very first of this competition, Cheptegei and Farah were pictured sharing a light moment together immediately after the formalities were done - perhaps reliving that edgy conclusion of the race a little while back.

So, with all that said, in short, it's gold for Farah (Britain), silver for Cheptegei (Uganda) and bronze for Tanui (Kenya).
Meanwhile, Uganda's other representatives in that 10,000m event were Timothy Toroitich and Moses Kurong, who finished 14th (27:21.09 - personal best) and 18th (27:50.71) respectively.

Earlier, Uganda's interest in the women's 1,500m heats, Esther Chebet, did not make it through to Saturday's semi-final.

The World Championships are running for 10 days (August 4 to August 13) with various track and field events.

UGANDA'S DAY TWO REPRESENTATION

Saturday afternoon

Abu Salim Mayanja win run in Heat 5 of the men's 800m. The first three in each heat will qualify as will the next six fastest overall.

Saturday evening

Mercyline Chelangat will race in the women's 10,000m final.


ALSO RELATED TO THIS STORY

World Para Athletics: Uganda's Emong wins gold in London

Uganda dominates World Mountain Running Championships