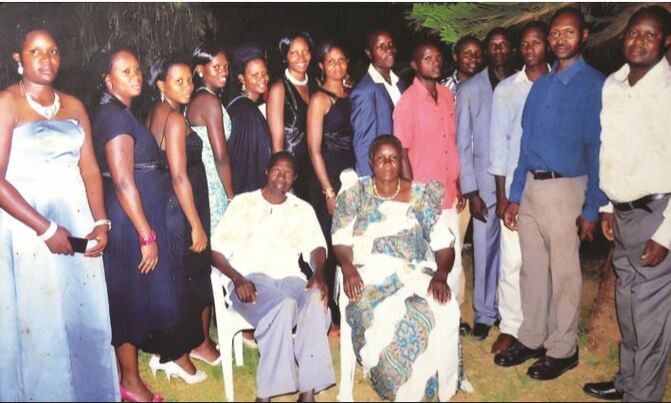 "I gave birth to the first and second-born. On the third birth on February 2, 1976, it was a set of twins; Alex Waiswa and Eva Kagona," says Nabirye.
First set of twins, Alex (standing right) and Eva (standing second-left), second set Phillip (standing fi fth-right) and Winfred (standing third left), third twin pair, Victoria (standing fi fth-left) and Jacob ( sixth-right) pose for a photo with the rest of the family
An elderly man walks self-assuredly uphill to the main house positioned under imposing natural vegetation. For Isabirye Kagona, a retired veterinary officer, his confident strides seem to indicate numerous accomplishments; one of them being a father to three sets of twins.

As he gets to the compound, his twin granddaughters dash to welcome him home at Buwanume village, Nabwigulu sub-county in Kamuli district.

His wife, Florence Nabirye, emerges from the storeroom and gladly receives her husband. Then, she utters the name 'Isabirye,' a preserve of fathers of twins, drawing multiple responses from the premises.

Her son, Phillip (also a father of twins) comes out to respond to the call. In apparent amusement, the mother of three sets of twins hastens to apologise, saying that is the reality of living at a compound with twins in plenty.

According to Nabirye, she is a proud mother of 14, of which six sets of twins. "I gave birth to the first and second-born, and when the third delivery on February 2, 1976, it was a set of twins; Alex Waiswa and Eva Kagona. After these twins came my fourth-born," she narrates.
Phillip Waiswa and his twin daughters Precious Nakato and Rebecca Babirye
Nabirye adds that again on June 28, 1983, she gave birth to a second set of twins; Phillip Waiswa and Winfred Kagona. "Almost a decade later, I was blessed with my third pair of twins on January 3, 1992.

These are Jacob Waiswa and Victoria Kagona who are actually my lastborn children," she discloses. Phillip explains that he attained the 'Isabirye' title two years ago when he became a father of Precious Nakato and Rebecca Babirye. "The twins just flow in the family blood. I am sure with time, I will also have many more sets," Phillip boasts.

He says someone new in the area can easily access the Kagona household by mere asking for directions to the 'house of twins'. Nabirye says all her children are now grown up, educated and contributing to the development of the country in several sectors.

"Alex, the first twin, is a social worker with United Nations High Commissioner for Refugees (UNHCR), while his twin agemate Eva is a public health worker. Both Phillip and Winnie are accountants," she adds. She says the last pair; Victoria and Jacob, both pursued a career of social work when they joined

university. "They are rarely at home as they carry out their respective duties. However, having granddaughter twins on the premises keeps reminding me of the fact that I am a proud mother of numerous such sets," Nabirye remarks.
Dr Aggrey Batesaaki, the Kamuli district health officer, observes that Nabirye is a testimony to the high fertility rate exhibited in the area. "It is not only in Kamuli, but Busoga generally as a sub-region.
We have a comparatively higher fertility rate of 6.4 which is above the national average of 5.4," Batesaaki suggests. He argues that Nabirye's situation was boosted by the potential to deliver more than one baby at a go.