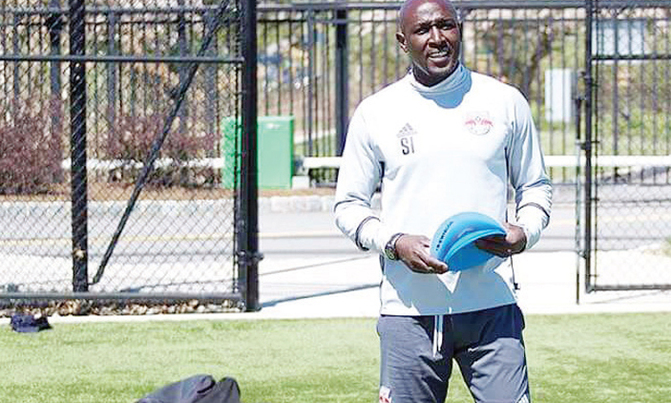 The former Cranes skipper provides an insight into his life at Red Bulls
Ibrahim Sekagya has made tremendous progress since being appointed as assistant coach at New York Red Bulls in 2015.
The former Cranes captain-who is apparently being looked at as serious candidate for Cranes' main coaching seat in future -has strengthened his coaching credentials with several international badges.
In this exclusive interview with New Vision, Sekagya provides an insight into his life at Red Bulls, career path, close ties with former Arsenal star striker Thierry Henry and future plans - that of course include starting a football academy and managing the national football team.
Q: Ibra, take us through your coaching career so far at Red Bulls and how it has transformed you as a person?
A: My coaching career with Red Bulls II has been so far so good. I am learning a couple of great ideas off the pitch. I can't complain.
Have you completed your coaching courses?
Yes, I completed my course. However, I am still looking at a couple of more badges ahead of me. It is quite an endless process of learning different ideas and skills of the game.
What have you learnt since you started your coaching work at Red Bulls II?
I have learnt quite a lot of things. You get to notice, that while off the pitch, you tend to have a number of ideas flowing in your head. This has also helped me learn how to handle players because each player has his own personality and approach to different drills.
Do you miss being a football player?
I would say yes, because, as a player you tend to have less work on the table and less pressure. Being a coach is a real full time job, that goes from morning till late in the evenings; trying to do all the technical analysis, video study and always learning about the opponent teams; their system of play, player-to-player study etc. All in all, it is a lot of work that keeps your brain busy all day long; although, with time you get to love it as your job.
What would you want to achieve in the next five years?
I would love to see myself coach one of the biggest teams in the Major League Soccer (MLS), Europe, be part of the technical staff with my country's national team (Cranes) in the years to come and to also create soccer clinics for young upcoming talents, God willing.
Do you have any plans of developing football back in Uganda?
I do have plans, developing football in Uganda but all this needs when you are on the ground. As of now, I have a full year on duty at my club from February to December.
You were close friends with former Arsenal and Red Bulls star striker Thierry Henry. Are you still in touch or working on any projects with him?
Yes, I was close with Titie (Thierry) and I am still close and in touch with him. We communicate at least once or twice in a week. He has always promised to come with me to Uganda, but his tight schedule has not enabled him yet.
Do you see one of your sons following your footsteps and playing football in future?
Ohhhh yeah...! I have them in academies of their respective age groups, and I already see the skills in them. I just pray they stay focused and make it to greater heights.
Any message for your football fans back in Uganda?
All I can say to the fans back home is to thank them for that endless support and to request them to keep up the spirit.
******************************
Sekagya understands the game incredibly well — Marsch
Red Bulls Sporting Director Ali Curti's view of Sekagya during his appointment in 2015:
"Ibrahim had a great playing career and is also a great person. He is a true professional.
"His successes for both club and country speak for themselves, and the length of his career is a testament to his character and work ethic.
"We thank him for his service to the New York Red Bulls, and we look forward to working with him and integrating his knowledge and experience into helping both our coaching staff and our young players at all levels."
Red Bulls head Coach Jesse Marsch's view:
"Ibrahim understands the game incredibly well. That's what allowed him to play at a high level for so many years."
"He will be a great resource to our staff, and I expect him to have a very strong impact on our young players, especially our young defenders," Marsch added.