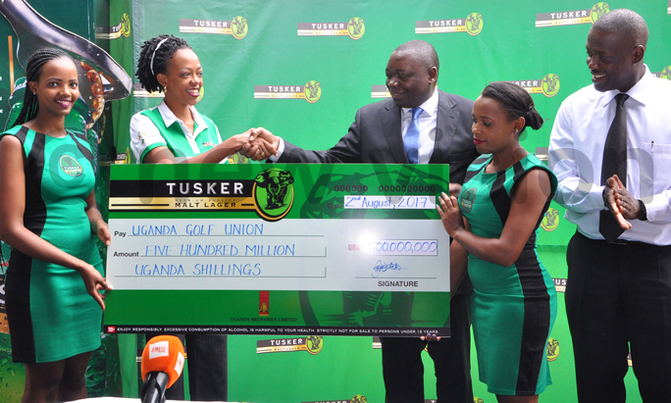 They were looking forward to attracting the best talent on the continent in the 76th edition of the event
This year's Tusker Malt Lager Uganda Golf Open will be a three-in-one with the ladies teeing off first, September 7-9; but without defending champion Flavia Namakula who has since turned pro. But that will matter less after sponsors, Tusker unveiled a sh500m sponsorship for this tournament at Kitante, Wednesday.
And amateur defending champions Ronald Otile and professional golfer, South Africa's Joshua Seale is already looking to defend their titles in the amateur and professionals' tournaments September 13-16 and September 27-30 respectively.
Uganda Breweries through its premium brand, Tusker Malt Lager yesterday announced a sh500m sponsorship for the annual show piece in a bid to further raise the profile of the event within the region and Sub-Saharan Africa, as well as attract notable professionals from around the world.
Addressing a press conference at the Uganda Golf Club, UBL Marketing Director Juliana Kaggwa said the increment in sponsorship is aimed at turning the Tusker Malt Uganda Open into one of the biggest and most sought after tournaments in Africa.
"We have pledged a total sum of Sh500m that will be used towards the development of this sport in Uganda. In a bid to continue raising the tournament's standards, we have increased our cash sponsorship from sh230m to sh250. Out non-cash sponsorship will now also be at sh250 million," Kaggwa noted.
"Golf is fast becoming a lifestyle preference for a considerable number of Ugandans and Tusker Malt Lager will continue sponsoring premier golf event such as the open which allow us to support the development of the game as well as connect with customers by sharing their passion and interests," Kaggwa stated.
Uganda Golf Union president Johnson Omolo who was flanked by his vice Innocent Kihika, UGU official Oscar Semawere and UGC Captain Joseph Bagabo, said they were looking forward to attracting the best talent on the continent in the 76th edition of the event.
"We have increased the prize money for the professionals to $40,000 (sh145m) up from sh110m last year. We are expecting all the top golfers in the region; Kenya's leading golfers will be here including their number one John Karichu, Zambia's Aaron Simfukwe is expected and South African professional Joshua Seale has expressed interest to return alongside Otile to defend their titles," Omolo stated.
"We have a couple of co-sponsors who are coming on board and we shall be unveiling them in the subsequent weeks prior to the open including the hole-in-one prize which we shall unveil in the next two weeks," Omolo remarked.