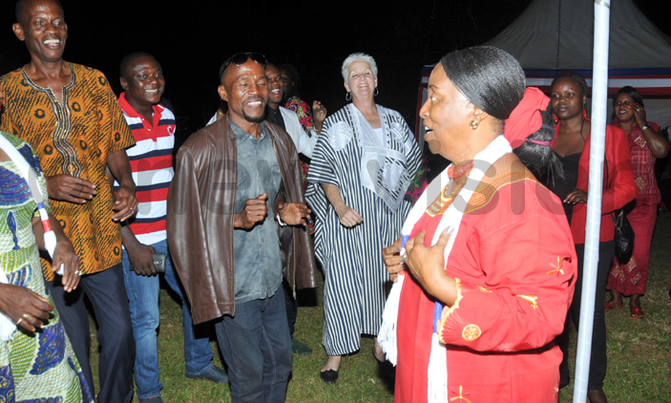 Ugandan health workers were also commended for joining the fight against Ebola that ravaged the West African country
Liberian Consul General has hailed the Ugandan government for its peacekeeping mission in West African countries.
Ugandan is among the African countries that provided troops to disarm warring factions and paved way for free and fair democratic elections in the 1990's in Liberia.
"Liberians will never forget that Ugandans travelled the length of Africa to come to give Liberia a helping hand in its time of need. Uganda put some of its best minds to supporting Liberia in its search for peace and good health of its people. They served in our security forces in UNMIL, in our communication establishments, and in various government offices," Dr. Thelma Awori said.
She was speaking during Liberia's 170th Independence Day celebrations at her residence in Kiwatule, Ntinda on Saturday. The celebration was graced by United States ambassador, Deborah Malac, Nakawa MP Micheal Kabaziruguka and friends of Liberian nationals.
Under a peace agreement signed in Benin, Tanzania, Uganda and Zimbabwe provided 850 troops each to expand the West African force that was sent to Liberia in August, 1990.
"Liberia proudly celebrates July 26 every year in full gratitude to God who has taken the small nation through the struggle for abolition of slavery and world wars," Awori said.
She hailed African countries especially Uganda for their generosity towards hosting the Liberians refugees during the period of turmoil.
"The Ugandan government supported my country in military and economically terms during the conflicts. During that period we lost so many people, but the support we got from African countries helped to stop the war" she said.
Awori also applauded Ugandan health workers who fearlessly put their lives on the line in the struggle against Ebola that ravaged the West African country.
"We are nevertheless pleased that many of them (health workers) are here with us to celebrate the deepening relationship between our countries. As our countries come closer together through the love and affection between its people, we will always ensure that these Ugandans are with us whenever we celebrate Liberia's Independence Day," she said.
Awori said the Liberian President, Ellen Johnson Sirleaf has played a big role in ushering peace and recovery in the country.
She said Sirleaf has many achievements particularly her sterling leadership as president of Economic Community of West African Countries (ECOWAS) and her handling of the crisis in The Gambia.
"We commend the people of Liberia for their resilience during the war conflicts and being among the African country to have a female president. Liberia moves into a period of transition with the coming elections at the end of the year. We ask for your prayers for a peaceful transition," she said.
Awori hailed Malac for serving in Liberia for years and further invited Ugandans to visit the country for investment opportunities.
The First Liberian Civil War was an internal conflict in Liberia from 1989 until 1997. The conflict killed over 600,000 people and eventually led to the involvement of ECOWAS and the United Nations.
The Second Liberian Civil War began in April 1999 when a rebel group, Liberians United for Reconciliation and Democracy (LURD), with the support of neighbouring Guinea, began a military offensive to topple the government of President Charles Taylor.