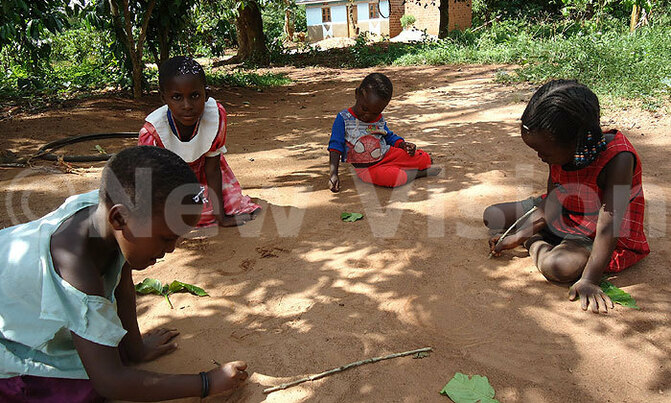 It's important for parents to ensure that there is enough space in the compound.
(Credit: Umar Nsubuga)

HOMES & CONSTRUCTION

Jimmy Kijjambu, a resident of Kiwatule, says he faces a challenge of having a small compound. "I really feel bad when my children play in my neighbour's compound because of the vast space there.

The father of three feels the need to create playing space for his children but he doesn't know how to go about it.

Compound designer Ismail Kambugu says play is important for every child. But for playtime to be enjoyable, it's important for parents to ensure that there is enough outdoor space for that.

He says one of the key things in a playground is space.

When planning for it, you need to provide space for the children to move around since they are very active. "You need to plan for space for activities such as jumping, skipping, sliding, swinging, rolling, balancing and throwing, among others," says Kambugu.

Meanwhile, architect Abdu-Wahab Nyanzi says with the limited space in most urban areas, people are forced to buy small plots of land, with little room for dedicated play areas.

He advises property developers with small spaces in the compound to put up structures that can be used as play materials for children.

Robert Kagwa, who is a physical education trainer at Kampala International School of Uganda (KISU), says physical play requires climbing equipment and swings that are friendly for all children including toddlers.

He says climbing equipment for infants and toddlers should be very basic, including a crawling tunnel, small steps and a slide.
According to Kambugu, homeowners don't need a lot of space to create a playground; a small portion of land can work. For a person who owns an irregularly leveled compound, he or she can create some flat space and have some grass planted on it. The grass protects children from sustaining injuries while playing.

For those who have the necessary resources, "you will need equipment such as a slide, swing, skipping ropes, balls and bicycles if you own any in this space".

On his part, Nyanzi says parents can recreate a small beach for their children using either lake or beach sand and a portable swimming pool.

He says a small-sized pit can be dug before putting the sand, since the deeper the sand, the more enjoyable it becomes for the children.

Sand pits are enjoyable especially for children who like to play in the sand. You can get the children toys like a small bucket or shovel, which makes it more fun to play in the dirt.

To use a small compound profitably, Nyanzi advises that you subdivide it into functional areas. Take into consideration the area that has a shed for both recreation and gardening.

He says parents must know that safety is an important aspect when planning for children. So for a playground, you will need to put sand so that even when they fall, they do not hurt themselves.

So, let the fun begin!