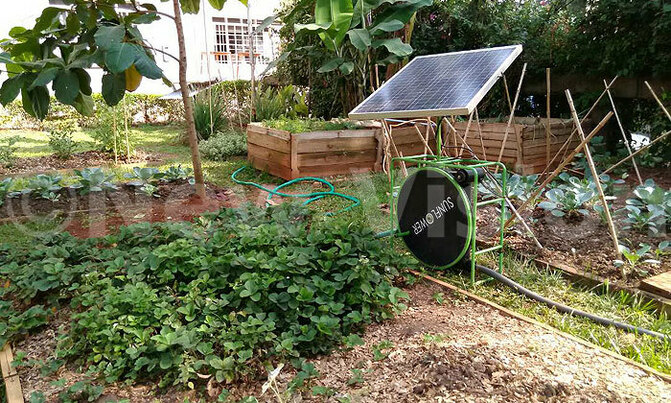 Solar energy powered water pumps are coming onto the market.
PIC: One of the solar-powered water pumps on the market. (Credit: Billy Rwothungeyo)

AGRICULTURE

Irrigation systems need to be powered. Unfortunately for Ugandans, national grid electricity is not yet in all corners of the country.

Rural Uganda, where most of the farming in the country takes place, is the worst-hit.

With an average of 75 kWh per year, Uganda has one of the lowest electricity consumption per citizen in Africa. Only about 15% of Ugandans are connected to the grid, leaving the rest languishing in darkness.

"According to available data, Uganda's national grid electrification rate is 12% in urban and about 5% in rural areas. The majority of the people in rural areas strongly rely on lighting mechanisms like candles and kerosene lamps, which emit noxious fumes and present a hazard in terms of fires or burns, especially to children," says energyprogramme.or.ug.

There is light at the end tunnel, however, for Ugandans who want to irrigate their farms in remote areas of Uganda which are not connected to the grid.
For farming enthusiasts in remote areas, there is bright light at the end of the tunnel, literally!

Solar energy-powered water pumps are coming onto the market.

"The beauty of solar-powered water pumps is that they are very mobile. They are also easy to install on a particular farm," explains Andrew Bagenda of SolarNow, one of the players pioneering solar-powered irrigation systems in the country.

"It is time our farmers moved on with the times. With changing weather patterns, we are seeing longer and longer dry periods. We have to embrace irrigation."

Installing these water pumps on a farm is not as complicated as rocket science, although it's important to seek professional help if you do not know how to install.

To make these solar-powered water pumps affordable to farmers, players are partnering with donor agencies that are interested in the food security agenda, to subsidize products.

Farmer groups are being targeted for such support.