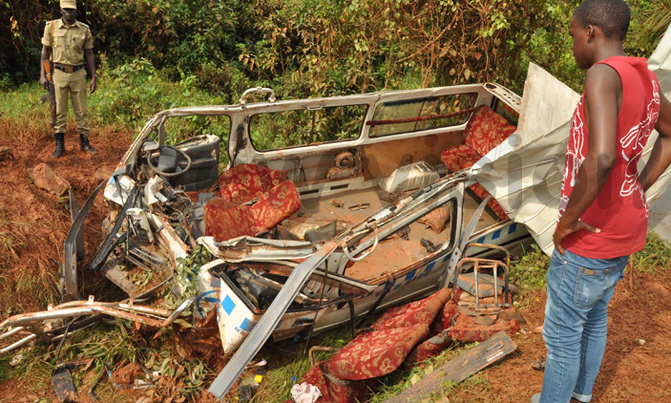 Names of the deceased were still unknown by press time
Five people died and nine others sustained injuries in an accident that occurred on Saturday afternoon at Senene, Kibibi town council in Butambala district on Mpigi-Gomba road.
According to Philip Mukasa, the Katonga Region Police publicist, the taxi registration number UAZ 212B which was heading to Gomba district carrying 14 people swerved off the road and overturned many times before entering a bush.
According to Mukasa, taxi was carrying supporters of Bulemeezi ssaza football team which was heading to Gomba to play against Gomba ssaza football team in the Masaza tournament quarter finals.
Names of the deceased were still unknown by press time since they had identification documents on them.
The dead included three adult males and two adult women who were pronounced dead tors at Gombe Hospital where they were rushed for treatment after the accident.
According to Mukasa, preliminary investigations indicate that the taxi driver was driving for the first time on this road that is under re-construction by Energo Projekt and that he hit a pile of stones used for the road project which made the vehicle swerve off the road.
The wreckage of the taxi was towed to Kibibi Police Station and the bodies of the deceased taken to Gombe Hospital mortuary.
The injured were first taken to Gombe Hospital and later to Mulago Hospital in Kampala for treatment.