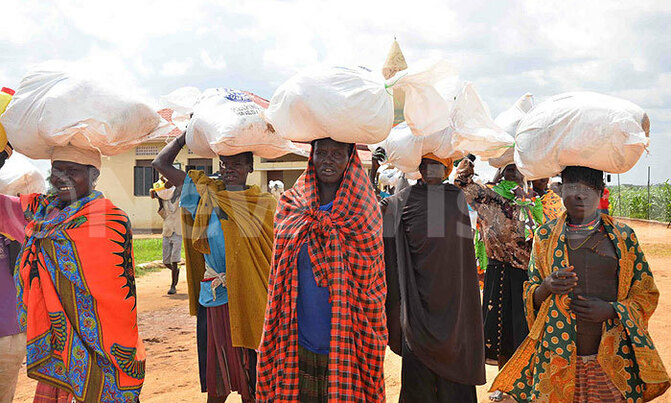 More than 300 households in Napumpum and Panyangara sub-counties received relief items.
PIC: Karamojong women walking away with their relief packages. (Credit: Abou Kisige)

FOOD SHORTAGE | KARAMOJA

KOTIDO - Muslims have extended relief aid to several families in Kotido district, one of the most drought-hit areas in Karamoja sub region.

Muslim brothers, under their umbrella organization Helping Hand for Relief and Development, delivered food items including maize flour, rice, sugar, cooking oil, soap, tea leaves and bread spread.

The group is a global humanitarian relief and development organization responding to human sufferings in emergency and disastrous situations anywhere around the world.

The items worth sh50m were handed to over 300 households in Napumpum and Panyangara sub-counties.
Staff of Helping Hand for Relief and Development sorting out relief items before handing them to the beneficiaries
The program officer of Helping Hand for Relief and Development, Mustafa Ssaka, said they were touched by the numerous media reports about the suffering of the Karamoja people.

"We believe everyone has a right to life free of poverty and hunger. Having food and decent shelter is a right of every human being and therefore in doing this, we are trying to contribute to having a secure and more equitable world."

He said the food they offered is not really enough but it could help the affected people prepare a meal to enable them get strength to prepare gardens since rains are soon starting.

Ssaka lauded the Muslim community in the US who contributed to the relief for their generosity and support to this noble cause.
Harounah Kibirige hands a relief packages to beneficiaries
'By chance or nothing at all'

The LC5 chairman of Kotido district, Ambrose Lotukei, said the people of Karamoja have always cultivated crops but the long dry spells have always left them with nothing to harvest.

"My people are not lazy but the weather has often betrayed them, leaving some starving. My people either get meals by chance or nothing at all," Lotukei said.

He said though the relief aid is not enough to sustain the people, it will help in making people survive. Karamoja sub-region has an overall population estimated at about 1.2 million people, with about 70 percent residing in rural areas.

Since last year several parts of Uganda, especially in the northern and western, have been severally affected by hunger due to prolonged drought and government has delivered over 10,000 metric tons of food to Karamoja in the recent past.

The chief kadhi of Kotido, Abdu-Rashid Auni commended the Muslim brothers for the donation, saying it has benefited the intended vulnerable people without considering people's religious affiliation.