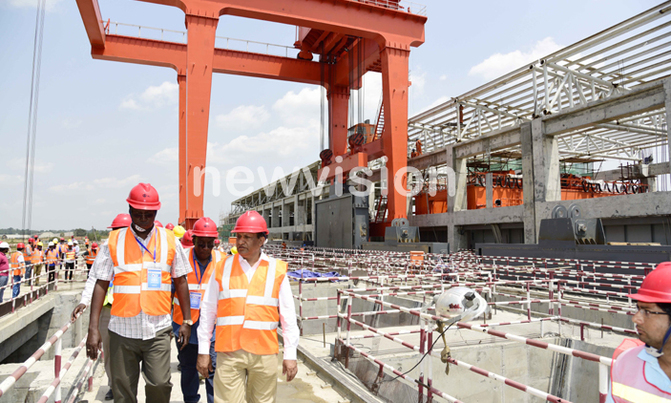 Isimba is located between Lake Victoria and Lake Kyoga
State Minister of Energy Simon D'Janga (left) and Chairman Management Committee Isimba Dam Badru Kiggundu (centre) listen to Manoj Basu, during a tour of Isimba Dam. PHOTO: Kennedy Oryema
Dr. Eng. Badru Kiggundu, the chairman of the Project Steering Committee of the Karuma and Isimba Hydro Power projects has promised that his team will keep a keen eye on the progress of the two projects that are intended to increase the availability of cheaper and reliable power supply in Uganda.

Kiggundu said this while on a monitoring visit of the 138mw Isimba Hydro Power Project. "We will continue to monitor the project. We hope the contractor will overcome the challenges of cracks and shoddy works," Kiggundu said.

Isimba is located between Lake Victoria and Lake Kyoga, 15km downstream from Kalagala falls on River Nile in the districts of Kayunga, Kamuli and Jinja.

China Water and Electric Company (CWE) are the contractors of the $567m (sh2 trillion) public project financed under a bilateral agreement between the government of Uganda and China.
State Minister of Energy Simon D'Janga (sixth left) and Chairman Project Management Committee Isimba Dam Badru Kiggundu (centre) listen to Manoj Basu
The project is 22 months into its 40 month period representing 55% time progress. Physical progress of works (civil, hydro-mechanical and electro-mechanical) is estimated at 76% while general concreting works are at 88%. A total of $ 261m (sh940b) has been paid to the contractor representing financial progress of 46%.

Kiggundu, appointed by President Yoweri Museveni to oversee the completion of the project following challenges of poor workmanship it faced, noted that special design measures had been put in place against the occurrence of earthquakes to protect the project.

Eng. Simon D'Ujanga, the state minister for energy asked the contractor to put emphasis on building the transmission line of 35km to Bujagali Hydro Power Project to evacuate the power.

D'Ujanga noted there could be delay in completing the project by four months. He suggested that by increasing manpower, equipment and doubling work efforts the delay could be avoided.

He asked the manufacturers of various local materials such as steel and cement to provide materials that meet required standards to avoid their importation and boost local content.

Eng. Proscovia Margaret Njuki chairperson of the Uganda Electricity Generation Company (UEGCL) together with other board members and management of UEGCL said they expect better results from the contractor since changes have been made in the management team of the contractors.