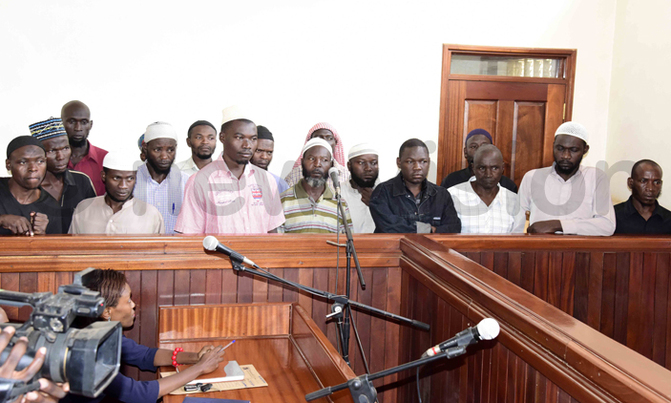 Investigations into the case are still ongoing.
PIC: Some of the suspects in the murder trial of AIGP Andrew Felix Kaweesi appearing at Nakawa Magistrates Court on Wednesday. (Credit: Kennedy Oryema)

COURT

KAMPALA - The 24 suspects accused of murdering former Assistant Inspector General of Police (AIGP) Andrew Felix Kaweesi have been further remanded as inquiries into the case are still ongoing.

State attorney Rachael Nabwiire informed court presided over by Grade One Magistrate Noah Ssajjabi that investigations into the case are still ongoing, prompting him to adjourn the case to August, 9, 2017. The accused appeared crestfallen in court.

Prosecution alleges that the accused and others still at large on March 17, 2017 conspired to murder Kaweesi, his body guard Kenneth Erau and driver Geoffrey Mambewo in the suburb of Kulambiro.

The three were murdered by unknown assailants travelling on motorcycles.

The accused are Abdul-Rashid Mbaziira, Aramazan Noordin Higenyi, Yusuf Mugerwa, Bruhan Balyejusa, Umar Maganda, Ahmada Shaban Ssenfuka, Hassan Tumusiime, Ibrahim Kissa, Osman Muhammed Omar, Hamidu Magambo, Abdu-Majid Ojerere, Joshua Kyambadde Magezi, Sheikh Musa Abubaker Ntende, Abdul-Rashid Mbabazi, Asuman Mugoya, Kimuli Luutu, Ali Mugoya Byatugo, Shafik Kasujja, Sauda Ayubu, Ibrahim Ssemwanga alias Superman, Abudallah Khala alias Hibwangi Sinani and Swaleh Ddamulira.​