Officers Julius Twinomujuni, Edgar Nyabongo, Apollo Kateeba and Felix Mugizi are suspended pending investigations.
PIC: The suspensions come after Gen. Kale Kayihura's appearance before the commission of inquiry into land on Tuesday. (Credit: Miriam Namutebi)

POLICE

KAMPALA - Police has suspended four of its officers after they were linked to a cartel of fraudsters that have been conniving with powerful people in government to steal land in the country.

Details of their alleged involvement in the fraud were revealed during the ongoing commission of inquiry into the land mess in the country, which is led by Lady Justice Catherine Bamugemereire.

Officers Julius Twinomujuni, the directorate of human rights and legal services, Edgar Nyabongo (RPC Kidepo), Apollo Kateeba (RPC Rwenzori) and Felix Mugizi (DPC Kumi) have been told to stay away from their offices pending investigations.

Signed off by Inspector General of Police (IGP) Gen. Kale Kayihura, a statement from police said the officers are suspended from duty with immediate effect pending the findings of an internal inquiry into land management and investigations.

The inquiry has been instituted by Kayihura and will be supervised by the deputy IGP Edward Ochom.

It will investigate the alleged mismanagement of court processes involving property in Jinja municipality, Kayihura said.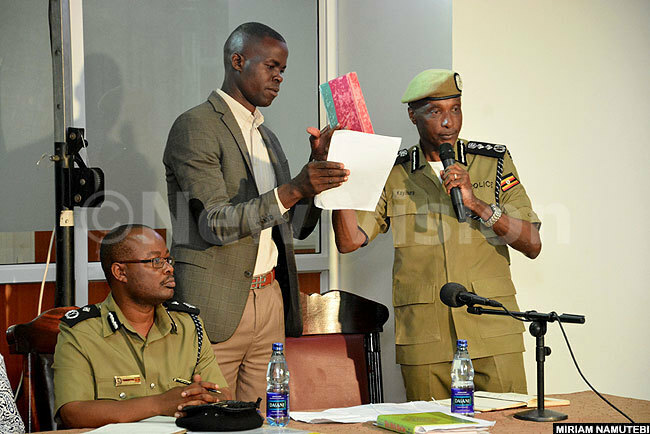 When he appeared before the land probe commission on Tuesday, IGP Kayihura first took oath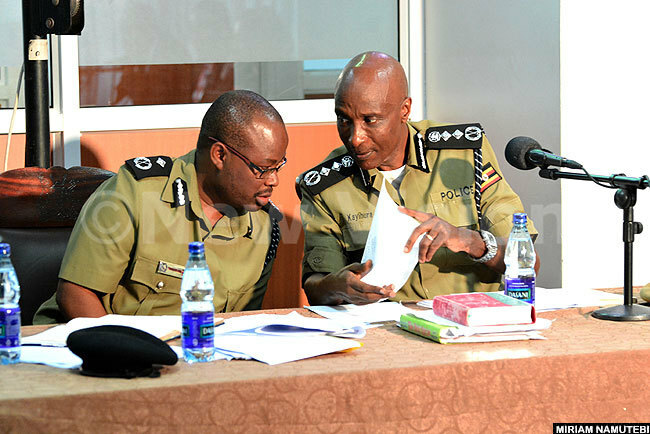 Here, during that session, he was pictured consulting with ASP Julius Twinomujuni
Apollo Kateeba, pictured here during Tuesday's hearing, was the Jinja district Police commander at the time of eviction