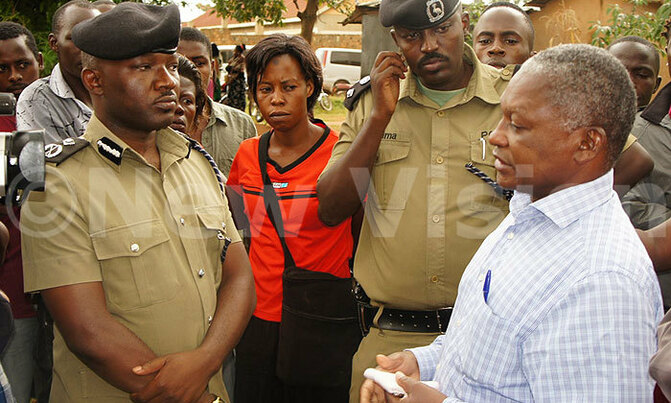 After a couple of drinks, Rose Nakimuli left a nearby bar deep in the night destined for home. She never made it back alive.
PIC: Anatoli Ndiwagira (right), the husband of the late Rose Nakimuli, talks to police officers at his home. (Credit: Julius Luwemba)

MURDER | KATABI

"I received a call from Brian, a neighbor, informing me that our security light was still on and that he had knocked on the door several times but there had been no response."

Fifty-two-year-old Anatoli Ndiwagira fought back tears as he told of how he was informed of his wife's gruesome murder.

Still on phone, he told Brian to call his wife Rose Nakimuli but she did not pick the phone call. No response on her end of the line.

Something was not right.

Indeed, the 27-year-old saloon operator had been raped, murdered and her body dumped in a plantation near her rented home in Kitala zone.

And hers was no different from the four other recent murder cases reported in the same area (Katabi town council) in a space of only two months.

Nakimuli's young life was snuffed out early Monday morning.

"I have a second home and it's where I usually sleep on weekends. That's why I was not around by the time she was murdered but we had spent one-and-a-half years together [with Nakimuli]," said an inconsolable Anatoli.

Just like in the previous similar incidents, Nakimuli's killer(s) waylaid her just near her home. Or did they trail her? That's a question police investigations will possibly eventually reveal.
Rose Nakimuli was a young woman full of life. (Courtesy photo)
But her life was brutally cut short by unknown people. (Credit: Julius Luwemba)

Meanwhile, close neighbors revealed that the murdered woman left a nearby bar for home between 1am and 2am local time. They claimed that she left her regular drinking spot heavily drunk.

Hours later, she would be found in a plantation near her place of abode - naked, with two sticks shoved into her private parts and dead. Just like the other murder episodes.

This fifth case has sent even more ripples of fear among the locals. Some are feeling very insecure amid assurances from the area police that security is to be ramped up and that they have some suspects in their custody.

"This is an organized crime. We have the names of the suspects [for the previous murders] but we cannot disclose them because of security reasons," said Entebbe division police commander Godfrey Ninsiima.

"We have instructed all bar operators to close at 10pm local time, and any bar found operating beyond that time will be closed indefinitely," he added.
Residents scrambled to peek at the body of Nakimuli as it was readied for transfer to Mulago Hospital for a postmortem examination. (Credit: Julius Luwemba)

Ninsiima went on to caution all residents to always move with their national IDs, especially at night to avoid getting arrested by patrol police. He was also critical of some local leaders whom he accused of interfering in police work by pressuring them to release suspects who are known criminals in the area.

"We have over 150 suspects in police custody and the rest have been remanded to Kigo Prison."

Just hours before Nakimuli was killed, police led by deputy commander of Kampala Metropolitan Police SP Francis Tumwesigye had held a security-related meeting with residents of Katabi Town Council on Sunday.

It was from this meeting that residents resolved to form village security committees of 33 people per village.

Nakimuli's murder followed a similar one of an 18-year-old Senior Five student a week before. Others had been murdered weeks before in the same way - Gorret Nansubuga, a roadside chips vendor who was six months pregnant; Faith Komugisha, a scrap dealer and Aisha Fenando.

The previous spate of murders even led to police chief Gen. Kale Kayihura camping in the area, where he visited the victims' homes and held emergency meetings with the area residents and security personnel to carve out solutions for the worrying crime incidence.

Police investigations are still ongoing.