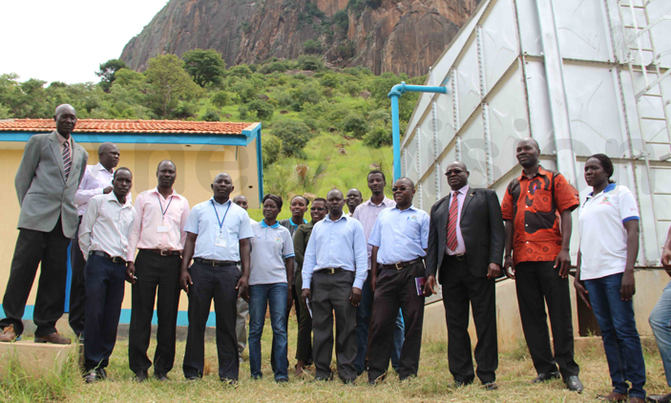 The water supply system is designed to serve 11,300 people
Water and Sanitation Development Facility-North (WSDF-N) under the Ministry of Water and Environment has officially handed over the management of sh2.4bn Kalongo town Council Pipe Water Supply System to National Water and Sewerage Corporation (NWSC).
The handover ceremony was presided over by Richard Matua, assistant commissioner urban water in the Ministry of Water and Environment.
Matua said the system should be handed over when it's functional and technically going to serve the people. He urged the manager WSDF-N to ensure that some people who sacrificed their land are compensated.
The construction of the water supply system designed to serve 11,300 people was done by Sumadhura Technologies Ltd and funded by the government of Uganda and the German government through KFW.
Agago LC5 chairman Leonard Opio Ojok commended the government for the project and urged the community to identify small projects that will always help them to pay the bills.
RDC Ray Okwir castigated some members of the community who stood in the way of development by refusing their land to be used for the project.
"The issues of land which we are about to amend very soon was the cause of the delay in the implementation of the project," Okwir said.
The construction work included, three pump stations, with a generator house, guard house and pump house, transmission mains to the tank from the pumping station, distribution mains of various sizes, eight stance water borne public toilet, and office block with a water borne toilet.
Other structures in the scope of work include, pressed steel reservoir tank of 192m³ capacity on dwarf walls, four water kiosks and 678 service connections.
The construction work started in January 2015 and was supposed to end in November 2015 but was adjusted to September 2016
The system has three production wells yielding 5.5m³/hour, 4.4m³/hour and 23m³/hour, all fitted with submersible pumps.