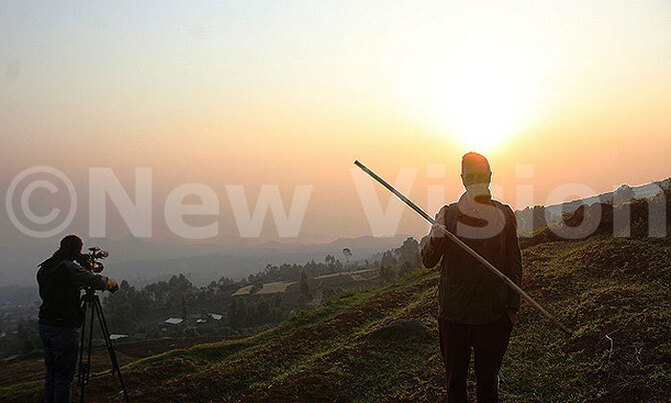 CNN's Inside Africa producer Bouchier oversaw the shooting of a documentary about Destination Uganda.
PIC: Media 256's Isaac Oboth (left) and CNN's Tommy Bouchier are sihouetted against a natural canvas of beautiful sunrise at Mgahinga

TOURISM | DOCUMENTARY

"Now this is what I call a powerful waterfall, possibly the most powerful in Africa!" he exclaimed as his jaws dropped in awe of the wonder before him.

CNN's Tommy Bouchier Hayes couldn't hide his wonderment over the thunderous Murchison Falls, after which Uganda's biggest national park is named.

Bouchier, the producer of CNN's Inside Africa, was in Uganda last week to profile what makes Uganda unique, focusing on New Vision's travel writer and blogger Solomon Oleny.

Inside Africa is a weekly show that airs on CNN International, highlighting the true diversity of the African continent as seen through the prism of different cultures and religions.

It's a programme that explores a wide range of topics: art, music, travel, literature, name it.
Oleny (wearing black) poses with the CNN crew and UWA staff at Mgahinga National Park

During his week-long visit to the Pearl of Africa, Bouchier was overseeing the shooting of a documentary about Destination Uganda through the lens of Oleny's commitment to promoting it through travel journalism.

Oleny is a 2015 and 2017 Best Tourism Journalist award winner, courtesy of the Tourism Excellence Awards.

The documentary in part profiles some of the astonishing natural attractions that have shaped Oleny's career. They include Murchison Falls National Park where his travel writing career started in 2012 and Mgahinga National Park, one of his favourite Ugandan parks.

Part of this 30-minute story has travel enthusiasts such as Amos Wekesa (pictured immediately below during an interview) talk about the big picture of tourism in Uganda, and what it means for African nations to have the rest of the world visit them.
According to Bouchier, the bottomline of this documentary, which is to be aired in late August, is to encourage international travellers to visit Uganda.

His project comes only days after CNN ranked Uganda's Kidepo Valley National Park among Africa's top 10 national parks, highlighting Kidepo's "phenomenal wildlife sightings and a level of exclusivity" as a reward for visitors.

According to Wekesa, the big catch here is that through CNN's increased coverage of Uganda, the country is inching closer to its dream of becoming a favourite travel destination on the continent.

"I base this optimism on the fact that CNN comes across as one of the most watched television stations in the world. Even better, its travel shows such as Inside Africa directly appeals to travellers looking for places to visit."

Andrew Seguya is the executive director of Uganda Wildlife Authority (UWA). To him, one of the most thrilling things about Bouchier's documentary is the fact that it was covered by Media 256, which has a global filming reputation.
Media 256's Oboth launches a drone during his shooting of the documentary at Murchinson Falls

It is renowned for shooting some of CNN's most punchy adverts, including Destination Mauritius.

The Uganda-based agency is currently on retainer by CNN to shoot African Voices, on which another New Vision writer, Gladys Kalibbala, has featured before.
ALSO RELATED TO THIS STORY

Kidepo ranked 14th best national park in Africa

Uganda among top 10 global tourism spots