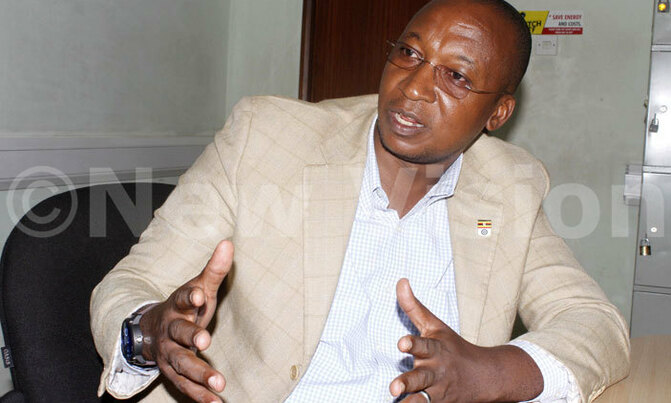 Kabafunzaki's trial will be conducted at the Anti- Corruption Court.
COURT | CORRUPTION

KAMPALA - The trial of the suspended state minister for labour, employment and industrial relations, Herbert Kabafunzaki, who is accused of soliciting for sh15m gratification, starts today.

The trial is to be conducted at the Anti-Corruption Court in Kololo before Justice Margaret Tibulya.

On June 28, Anti-Corruption Court Chief Magistrate Agnes Alum committed Kabafunzaki and his co-accused to High Court for trial, after state attorney Barabra Kawuma told court that inquiries were complete.

Kabafunzaki, Brian Mugabo and a one Bruce Lubowa are battling corruption-related offences. The trio is purported to have solicited and obtained money from AYA Group chief executive officer Mohammed Hamid, in exchange to have his (Hamid) name cleared of sexual assault allegations against him.

Prosecution alleged that Kabafunzaki solicited a gratification from Hamid.

"A1 (Kabafunzaki) told the complainant to increase the amount to sh15m if he wanted a "good job" to be done and from which sh10m would be his (Kabafunzaki) and sh5m was to cater for journalists," states the summary of evidence.

Prosecution alleges that Kabafunzaki's co-accused Lubowa and Hamid met at Aya Hotel on April 8, and also negotiated a lawyer's legal fee of sh3m.

The summary of evidence does not mention the name of the lawyer. It is also not stated what exactly the lawyer was supposed to do.

"A3 (Lubowa) went back to the hotel and met the complainant (Hamid) and negotiated over the lawyer's fee which they reduced to sh3m and the fee was payable to Kabafunzaki," the summary states.

It is purported that Kabafubzaki asked that sh5m to be paid immediately and the balance would be paid on April 11, 2017.

Prosecution said after negotiations at Serena Hotel in Kampala, Hamid purportedly removed a brown envelope which contained sh5m and placed it on the table and Kafunzaki instructed his aide Mugabo to pick the money.

Kawuma said video footage showing how the alleged offence and the sh5m that Kabafunzaki purportedly received through his aide will be used as evidence during the trial.

Charges

According to the charge in count one, Kabafunzaki is accused of corruption in breach of Section 2 and 26 of the Anti-Corruption Act (ACA) 2009.

The Directorate of Public Prosecutions (DPP) purports that on April 8, while at Kampala Serena Hotel, Kabafunzaki, in his capacity as minister, directly solicited a sh15m bribe.

DPP claims the money was a gratification from Hamid, in exchange for clearing his (Hamid's) name from allegations of sexual harassment by a former employee.

In the second count, he is also accused of corruption, in breach of the Anti-Corruption Act. It is alleged that on the same day, Kabafunzaki directly accepted sh5m as gratification to clear Hamid's name.

In the event of conviction, it carries a maximum sentence of 10 years in jail or a fine of sh4.8m or both.

Court has the discretion under Section 46 of ACA to bar a public officer from holding public office for 10 years.

In the third count, the minister and Lubowa are jointly charged with conspiracy to commit a felony outlawed under Section 390 of Uganda's Penal Code Act (PCA).

Prosecution purports that between April 6 and 8 in Kampala, the duo contrived to solicit sh15m from Hamid in exchange for cleaning his name in the sexual harassment claims.

The offence of conspiracy carries a maximum sentence of seven years in jail on conviction.

It is alleged that on April 8, at the same hotel, Mugabo knew that the minister had accepted the bribe and hid the sh5m, to enable the minister escape punishment.