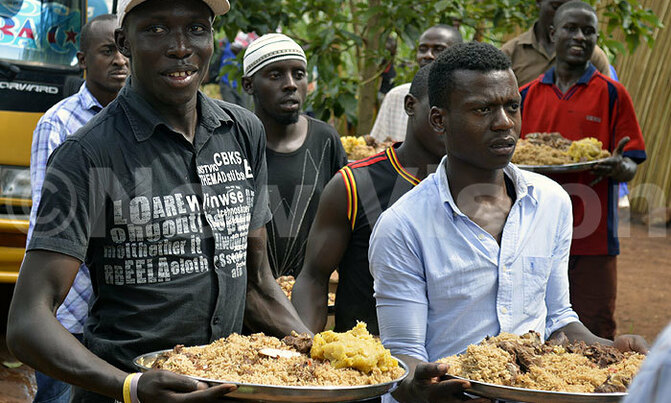 Draw yourself an eating plan to ensure a healthy diet throughout the day.
Are you a large meal taker? Time to rethink your eating regimen. (Credit: Ruth Nanfuka)

NUTRITION

It is healthier to eat many mini-meals rather than three large meals.

Draw yourself an eating plan to ensure a healthy diet throughout the day.

In your eating plan, make sure that all food values are included: proteins vitamins, carbohydrates and fibers.

Wakiso nutritionist Patrick Mutagubya says it is important to take two to three glasses of warm water to rehydrate the body.

The warm water should be taken immediately after waking up as it should be the first thing to take in the morning.

Mutagubya says the warm water is more effective if mixed with lemon, herbal or clear tea.
Breakfast

Do not delay to take your breakfast.

By 8.00am, you should be eating your breakfast to optimize metabolism.

Eat wholegrain cereal or bread together with filling protein options like low-fat milk and eggs.

But for those that usually skip breakfast, Mutagubya advises to pack boiled eggs, beans or yoghurt.

And if you are coffee lover, he stresses that enjoying it with your breakfast is great for both your digestion and your metabolism.
Mid-morning meal

After eating breakfast, in 2-3 hours you would be feeling hungry again.

Do not be scared thinking there is something wrong with you; hunger only shows that your body burns food effectively.

Experts say that at this point light 150-200 calorie snacks are required.

Take yoghurt, fruits, crackers and low-sugar peanut butter.
Lunch

At around 1.00pm, the body demands a lunch-time meal.

Zainah Kiconco, a nutrionist in Wakiso, says 2pm and 3pm is too late for a lunch meal. A healthy lunch meal is one with a balanced diet.

To achieve that, have 2-3 cups of salads or vegetables.

Kiconco says people ignore salads and vegetables when having a meal yet they are very important, especially for digestion purposes.

Part of your lunch meal should be protein-rich foods.

These include fish, beans and chicken.

But to have a balanced meal to push you through the afternoon, carbohydrates should also be included.
Foods with carbohydrates are matooke (bananas), cassava, potatoes, yams, posho (maize meal), but it is advised not to take them in excess.

"After a sumptuous lunch, it is important to follow it with a glass of fresh fruit juice to avoid sugar craving afterwards," notes Kiconco.

However, she cautions people to take lunch seriously and not to keep watching TV or working on a computer when eating. Concentrate at the task at hand on your plate.

Lack of concentration can lead to one eating more food without noticing than is required because they have something occupying them.

Mid-afternoon meal

In the late afternoon, blood sugar levels drop and the cravings for sweet things increases.

Mutagubya says the best food choice at a time like this is protein-rich foods which manage sugar cravings at the same time preparing you for dinner.

Eat crackers and milk shake to balance carbohydrates and proteins.
Dinner

Dinner should be taken at around 6PM to 7PM, beyond that is not a right time.

"If you find yourself eating your dinner later that 7PM unless you do a lot of exercise afterwards, go for a light meal like vegetables and salads and a heavier meal at lunch time," says Kiconco.

She adds finish eating early enough to give you 10-12 hours without eating so that you wake up hungry.​