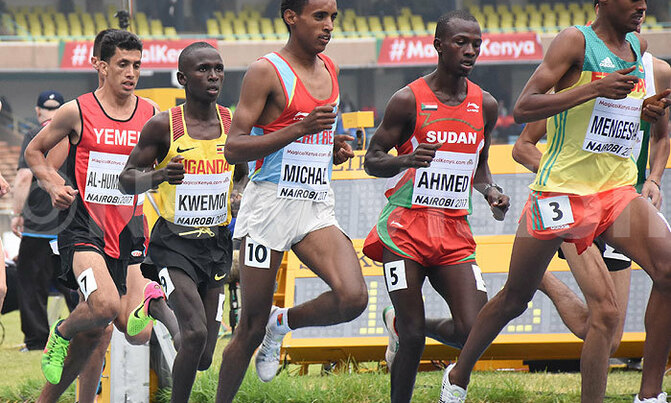 Team Uganda is due to return home with no medal, but certainly with plenty of experience as well as lessons for the junior athletes.
IAAF WORLD U18 CHAMPIONSHIPS

NAIROBI - The curtains drew on the last ever IAAF World U18 Championships on Sunday, with Uganda failing to pick up a single medal in the Kenyan capital Nairobi.

This was after Uganda's very last hope for a medal, Joel Kiplangat, came up short in the boys 2000m steeplechase final, finishing seventh in a race won by Leonard Kipkemoi Bett.

Earlier, also on the final day of the five-day event, Uganda's Titus Given Kwemoi and Oscar Chelimo failed to make a podium finish in the boys 3000m final.

That meant that Kiplangat would inherit the remaining narrowed hope for a medal for his nation, an assignment he eventually failed to successfully execute.
Despite a medal no-show for Team Uganda, there will be plenty of positives as well as lessons to draw from this international outing, which has been a first for majority of the young athletes.

It will have been seen as a learning curve for this group who represent Uganda's athletics future.

In fact, a bunch of them will return home with improved personal best times. One such junior athlete is Joshua Kibet, who bettered his 800m time to 1:52.31 en route to his unsuccessful quest for a final qualification.

Sarah Chelangat, who finished fifth in the 3000m final, also knocked as many as 15.56 seconds off her personal best time to set a new one of 9:40.18.

Meanwhile, for hosts Kenya, it has been a well-organised competition befitting its status as a global athletics powerhouse, and their presence on the top side of the medals table is clear illustration of such dominance.
South Africa tops the medal table at #wu18nairobi2017

🇿🇦🇨🇳🇨🇺🇰🇪🇪🇹🇩🇪🇯🇲

Congratulations! pic.twitter.com/CDcMEEogpT

— IAAF (@iaaforg) July 16, 2017

Overall, at 15, they took the biggest haul of medals (four gold, seven silver and four bronze).

The Germans will also fly back to Deutschland with a huge scoop of the medals: 13 (three gold, five silver, five bronze).

Ethiopia, Kenya's traditional rivals in the athletics context, bagged 12 medals while South Africa and China each won 11 medals.

South Africa, however, won five gold medals, more than any other nation.
It was the first time for Kenya to host this particular sporting event, and with such a massive buoyant crowd and field-and-track performances over the course of the competition, it will remain emblazoned onto many people's memories as one of the most exciting IAAF World U18 Championships ever.

Meanwhile, Ugandans should have plenty of reason to smile, in the athletics sense. It was a glorious Saturday evening miles away in London, UK as David Emong won yet another medal for Uganda.

The 26-year-old Paralympic silver medallist won a 1500m T46 gold at the ongoing World Para Athletics Championships, a first ever medal for Uganda at this competition.

In a little under three weeks from now, global sports focus will zoom in to London, where the 2017 IAAF World Championships will take place. This will be from August 4 to 13.
In 2016 David Emong became Uganda's first Paralympic medallist. Now he has won his first world title. Amazing! #London2017. pic.twitter.com/a2AgBkuL1B

— World Para Athletics (@ParaAthletics) July 15, 2017


ALSO RELATED TO THIS STORY

IAAF World U18: Uganda's medal hopes fade

Uganda's Chelimo, Kwemoi through to 3000m final

Chelangat improves personal best

Kibet sets new 800m personal best