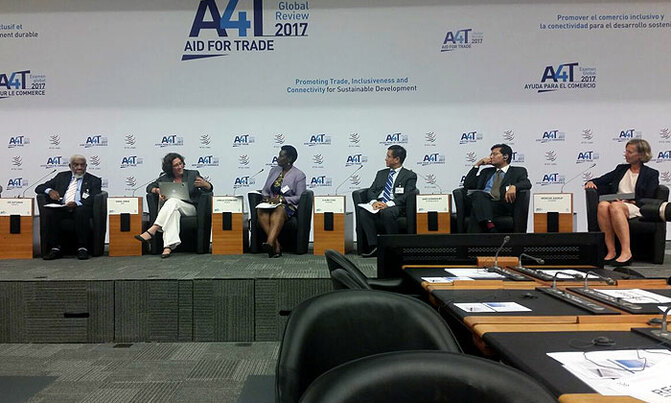 Kyambadde underlines the role of ICTs in the trade and development of Uganda.
PIC: Uganda's trade minister Amelia Kyambadde (3rd from left) during the meeting in Geneva. (Photo|Courtesy)

SCIENCE & TECHNOLOGY

GENEVA - Trade minister, Amelia Kyambadde, has urged developed countries to support the development of Information, Communication and Technology (ICT) incubation and innovation hubs in developing countries like Uganda as a precursor to economic transformation.

She made the remarks at a high level panel discussion under the theme "Promoting Connectivity for Least Developed Countries" in Geneva, Switzerland on Tuesday.

The Panel discussion was held as part of the activities taking place during the Sixth Global Review of Aid For Trade at the World Trade Organization (WTO) in Geneva.

On the Panel with Kyambadde, were Joe Natuman, a former prime minister of Vanuatu, U Aung Htoo, a senior official in the Myanmar foreign affairs office, and Alexander Mora, the foreign trade minister of Costa Rica. The session discussed three sets of questions structured around Access, Availability and Affordability.

In her intervention, Kyambadde underscored the role of ICTs in the trade and development of Uganda and the extent to which it would be an enabler of SMEs.

She noted that Uganda has made strategic strides towards this endeavor establishing, an efficient and effective national backbone infrastructure; laying the Fibre optic cables; putting in place an Electronic Single Window; and a National Response Strategy for the elimination of Non Tariff Barriers (NRS-NTB) which is a web and phone based real time reporting system that enhances reporting and resolution of NTBs.

However she decried the several infrastructural and affordability gaps that continue to exist, and or exacerbate, the digital divide in least developed countries. These challenges have made it difficult to effectively engage in, and benefit from electronic commerce.

In arguing her case, she observed that in Africa 74.9% of the entire population is not on the Internet while in Uganda the Internet penetration rate is 19.2%.

Further that while more than 50% of the population in LDCs is covered by a mobile broadband signal, only 15% use the Internet.

In terms of individuals using the Internet, she noted that only 15.2 % in LDCs use the Internet, as opposed to 82.1% in the developed world. 25.1% in Africa as opposed to 79.1% in Europe; 65% in Americas and 66% in the CIS.

In terms of households with Internet use: 11.1% in LDCs against 83.8% in the developed world. She observed that the digital divide is huge. There is therefore need to bridge it.

That said, she noted that Uganda is making the right strategic moves to widen access to ICT to the general population. "Uganda has a fully-fledged Ministry of Information Communication Technologies. This Ministry is responsible with developing the requisite policy and regulatory framework for the sector," she said.

"What is also critical is to ensure that the content and material that is generated is not illicit; and promotes the national security interests, and values of the country,"

"We have seen an increase in mobile phone accessibility from 16.6m in 2011 to 20.2m in 2015. By extension, this has also led to an increase in ICT related services such as mobile money transfers, banking facilities, payment of bills such as water, electricity, and pay TV," Kyambadde explained.

She underscored the monumental increase in mobile money subscriptions from 2.8m in 2011 to 21.1m in 2015 with a value of 11.446bn UGX in 2015.

While this achievement does not necessarily mean that the digital divide had been bridged, it is a testament to the role of mobile money in promoting financial inclusion in a country where many people are not banked.

On the volume and value of ICT Exports, she observed the ICT sector was still in its infancy. Uganda imports more than it exports. In 2015, Uganda imported 289m USD and only exported 32m USD.

There is therefore more to be done in terms of foreign direct investment in this area and in building public private partnerships. She also called for the need to support ICT incubation and innovation hubsin LDCs.

On the need for multilateral rules on e-commerce, she suggested that it was still premature for multilateral rules. LDCs have basic infrastructural challenges to deal with in building their e-commerce readiness.

She observed that there was no level playing field. Reducing the digital divide would require a closer look at the cost of services such as data, infrastructure, and regulatory and institutional frameworks.

There is need to address issues of access, availability and affordability of ICT and ICT related services and products. She therefore called upon the international community to focus on reducing the digital and the knowledge divide that continues to exist.