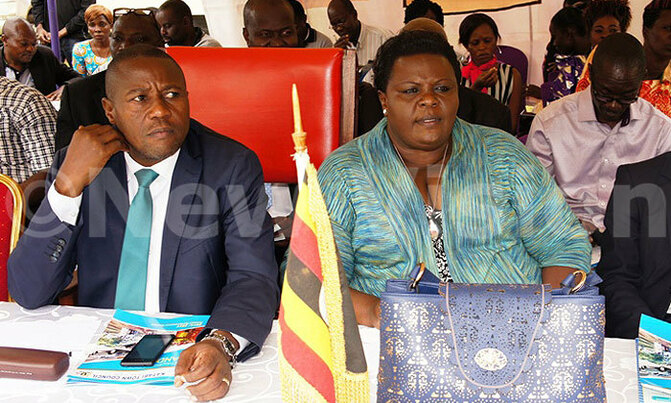 Katabi is a newly created town council in Wakiso district.
PIC: Wakiso district LC5 chairperson Matia Lwanga Bwanika was the chief guest. Right is RDC Rose Kirabira. (Credit: Julius Luwemba)

HEALTH | KATABI TOWN COUNCIL

Poor health facilities and lack of hospitals has cited as the major hindrance to the proper performance of the newly-formed Katabi Town Council in Wakiso district.

During an Annual Performance Review meeting held recently, the town clerk Henry Semakula said the Katabi has only grade two health centres, worsened by lack of medical personnel and inadequate drugs.

"With the population of people totaling to 105,942, we still have grade two health centres to handle people's health complications," he said.

Semakula also complained about lack of a waste and disposal management system in the area, a cause of rampant littering of waste.

"To make it worse, we do not have a sewerage nore a drainage system in the entire town council."
Councillors listening on during the meeting. (Credit: Julius Luwemba)

The same concerns were echoed by the area mayor Ronald Kalema who said his town council lacks public toilets and a garbage-dumping area.

He however unveiled a new master plan which he said will be capable of handling the mentioned challenges before the end this new financial year.

On the same note, the assistant resident district commissioner, Rose Kirabira expressed the need for more advanced health centres in the area.

This, she said, would help reduce the high number of patients flocking Grade B Hospital which she also described as a dilapidated referral hospital in Entebbe.

Kirabira however commended what she termed as total transparency exhibited by Katabi Town Council in the way it handles all its developmental programmes.
The town council has bought an official vehicle that was unveiled by Bwanika. (Credit: Julius Luwemba)

On his part, the Wakiso district LC5 chairperson Matia Lwanga Bwanika, who was also the chief guest, applauded the town council's political and technical teams for the so far registered developments.

"The begining is not always easy but if in one year Katabi has even managed to purchase motor vehicles for official work, then we are very hopeful," said Lwanga.

He later unveiled the newly bought Ford Ranger motor vehicle bought by Katabi Town Council at a cost of sh146m.

Katabi is a newly created town council in Wakiso district unde statutory instrument no.30 of 2015. It started implementing its urban mandate on July 1, 2016. It lies approximately 30km south of Kampala.