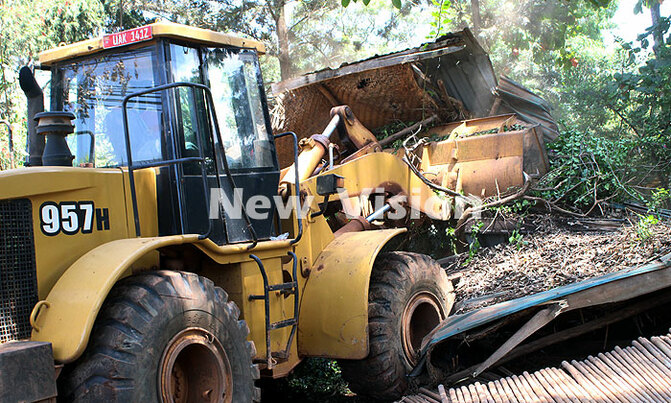 The clearing of some structures at Centenary Park kicked off Monday.
DEMOLITION | CENTENARY PARK

"The faster they do the work, the better. Then the people can come back and do their work."

Those are some of the remarks made by Godfrey Nyakana, co-director of Nalongo Estates, the company that has been managing Centenary Park.

Nyakana was speaking to the press at the park on Monday as demolition of structures there kicked off. The said structures are being cleared to pave way for construction of a sewer line, flyover and high voltage power lines.


"Parliament is not a court. The committee (COSASE) is not a court either. So the issue that is more important now is civility, talking, looking for solutions so that the country can grow," Nyakana told reporters at the scene.
The demolition followed a series of meetings by the parliamentary Committee on Commissions Statutory Authorities and State Enterprises (COSASE) and a meeting called by President Yoweri Museveni.
Nyakana said they are "working amicably" to ensure the exercise is done so that "everyone is happy".
During the series of COSASE meetings at parliament, Police chief Gen. Kale Kayihura was also called in to offer assurance that there would be security as the demolition takes place.

Indeed, there was police deployment at the park on Monday as the clearing exercise started.