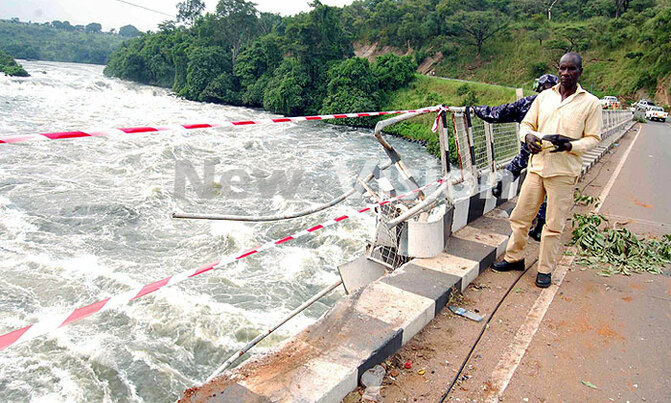 A lorry, believed to be the one that plunged into the river, is said to have been reported missing.
(Credit: Saidi Engola)

ACCIDENT

The lorry that plunged into River Nile at Karuma Bridge Friday evening is believed to have been destined for Kampala from Paidha town, and was laden with dry cassava chips.

The occupants of the vehicle are feared dead.

Two men who declined to reveal their names arrived at the scene Saturday and said they had got a report from Mbale that the vehicle from Pakwach had gone missing.

The men reportedly work with Syno Hydro Corporation Limited at Karuma hydropower project.

They told traffic police officers and UPDF soldiers at Karuma that the vehicle had gone missing enroute to Kampala and they believed it was one that plunged into the river.

Cpl Bosco Ocen, a UPDF soldier who was deployed at the bridge, said he saw the vehicle moving very fast before losing control and plunging into the water. He said he saw three people in the vehicle.

Meanwhile, the two men said the vehicle is a Tata lorry (UAW 356C) and was being driven by one Alpha who was traveling together with Abunya and Baraja.

'Prayer is very important'

A man who claimed he tried to get a lift from the driver in Olwiyo Trading Centre, Nwoya district said he saw five people in the vehicle and the driver told him there was no extra room for him.
Patrick Ocen (pictured above), a residence of Karuma town, claimed a UPDF soldier was among the five occupants of the vehicle.

"I now understand that prayer is very important. It's God who helped me, I would have been among those people who are believed dead," he said.

He said he got another vehicle and travelled to Karuma that evening, only to learn that the vehicle he had stopped for a ride is likely the one that was involved in the accident at the bridge.

Meanwhile, Uganda National Road Authority (UNRA) officials from Masindi visited the bridge to assess the extent of the damage to enable them repair it.

Samuel Sengoye, UNRA station manager Masindi said they will buy the materials and weld the damaged rails.

The Regional Traffic Officer Aswa Region ASP Constantine Muragwa who was at the bridge declined to comment about the incident. "I cannot give you any information before we establish the facts,' he said.

Despite humps put in place to check the speed of drivers, UPDF soldiers guarding the bridge said there are some drivers who do not slow down at that point.