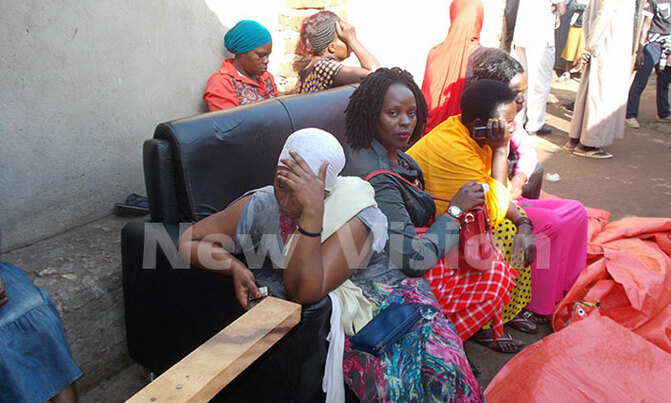 "She was my official wife and I have a right to decide where she should be buried since all the parents know me."
PIC: Mourners at the home of the mother of the fallen MP. (Credit: Moses Bikala)

DEATH | GRACE HAILAT KAUDHA

A misunderstanding erupted amongst family members of fallen Iganga Woman MP Grace Hailat Kaudha over where she should be buried.

The 30-year-old legistlator died of pregnancy complications on Friday and is to be laid to rest Sunday (today).

Following her death, her family has been engaged in a disagreement over the location of her interment.

Her elder brother Farouk Nakyoma said she should be laid to rest in Magogo village, Nawaningi sub-county in Iganga district.

But the late MP's husband insists she should be buried in the public cemetery located in Iganga Municipality since he had officially introduced her to his parents as the official wife.

Ibrahim Toto maintains he has a right to decide on the exact place where his wife should be buried. "She was my official wife and I have a right to decide where she should be buried since all the parents know me."
It was eventually agreed amongst the reletives to bury the deceased MP at her father's home in Magogo village.
From left, the late MP Kaudha and her mother Hajjati Sauda Wenene

Meanwhile, hundreds of mourners gathered at the home of the deceased's mother in Nkono zone, Iganga Municipality following the news of Kaudha's death.

Hailat was initially driven to a clinic in Kitintale, a Kampala suburb, but later referred to Case Clinic, a high-end private health hospital in Kampala.

Case clinic, too, conceded that her condition deserved more specialized treatment which it could not give.

She was rushed to Mulago National Referral Hospital (Kawempe extension) where she died less than 30 minutes after arrival.

The NRM chairman of Iganga district, Hajji Abubaker Walubi said there was still a disagreement over the burial location.

He said he was deeply hurt by Kaudha's passing. "At first I could not believe it but later realized it was true after one of the top politicians also called me moments later."

He said the district and nation at large had lost a person of great importance.

Patrick Kayemba, th district LC5 chairman, said Iganga had lost a great person at a trying moment. He said the youthful MP had started a program of providing sanitary pads to female students in all secondary schools, on top of supporting primary schools by providing desks in a bid to improve the academic performance in most government schools in the district.

Kaudha's personal assistant Hassan Kalende said the death of the legislator was a big blow to the nation and the district at large.

A graduate of social sciences, Kaudha is survived by one girl child.
ALSO RELATED TO THIS STORY

Iganga MP dies of pregnancy complications