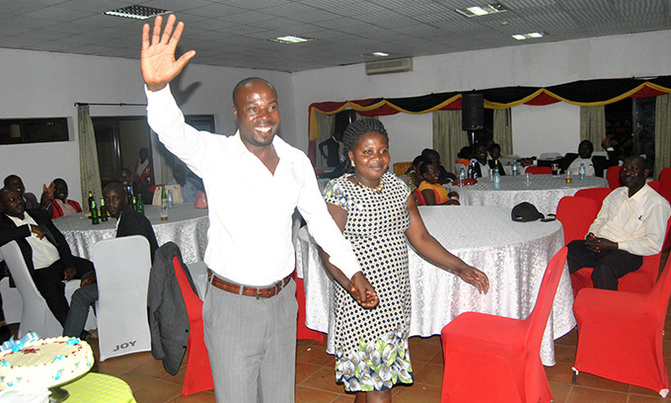 Ruhunda says that all district chairpersons from the greater Toro region need to unite and generate solutions to problems affecting their communities.
The Fort Portal municipality Member of Parliament Alex Ruhunda has criticized government's move of dividing districts in the name of bringing services nearer to the people.

Speaking during a farewell party for the newly created Bunyangabu district at Mountains of the Moon hotel in Fort Portal on Thursday, Ruhunda stated that dividing Uganda into small administrative districts is not a solution to the looming poverty and hunger the country is facing. Bunyangabu district was curved out from Kabarole and became operational on 1st July.

Ruhunda says that all district chairpersons from the greater Toro region need to unite and generate solutions to problems affecting their communities.

"As leaders we should not lock up ourselves within the small geographical boundaries of our districts. We need to network and unite with leaders from other districts if we are to find solutions to the challenges this country is facing," Ruhunda said.

He stated that 'the model of splitting districts cannot transform Uganda into a middle class economy.

"The engine which has transformed countries in the world is value addition. Uganda needs to invest more in industrialization. As for the leaders our big role is to mobilize masses to work harder," Ruhunda said.

Ruhunda regrets that the greater Toro region has all been split into small districts which has caused infighting amongst leaders from different districts.

"Leaders of these small districts ought to put aside their interest and differences so as to confront the common problem of poverty," he said.

He warns that some administrative units risk being irrelevant if they remain divided in their smallness.

Richard Rwabuhinga the chairperson of the mother Kabarole district called on the people of Bunyangabu to receive the district with calmness and cautioned them against tribal politics.

"Plan for the issues that affect the people of Bunyangabu majorly clean safe water and good roads," Rwabuhinga advised.

Rwabuhinga asked the interim leadership of the new district to continue mobilizing masses especially youths to increase their production and productivity.

"As leaders the more you mobilize people for a good cause the stronger and relevant you become to them" Rwabuhinga stated.

Peter Musinguzi the interim chairperson for Bunyangabu district stated that his leadership will work towards bridging the gap between the district technical team, the political wing and the general public.

He said that the new district will not be relevant if all key players do not perform their duties as expected.

Musinguzi said that his administration will not tolerate errant civil servants who only take government salaries and fail to deliver.

"There is a general problem of civil servants who upon receiving an appointment letter start absconding from duty. My administration will not tolerate that," Musinguzi said.

The new Bunyangabu district is composed of 12 lower administrative units of which five are town councils.

They include Buheesi, Rwimi, Kibiito, Rubona and Kyamukube. The Sub Counties are Kisomoro, Katebwa, Kiyombya, Kibiito, Rwimi, Kabonero and Buheesi.