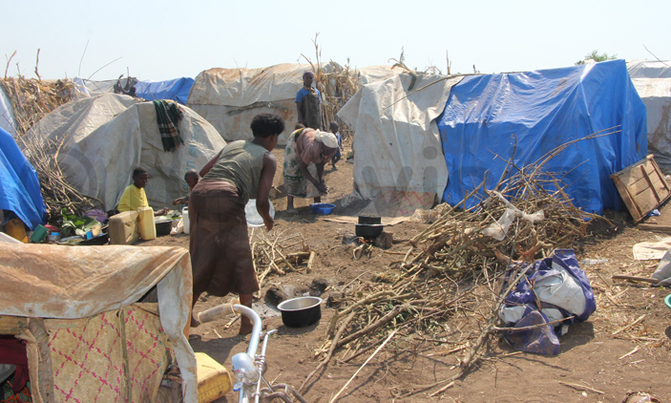 Uganda is currently hosting over 900,000 displaced persons from South Sudan, over 227,000 from DRC and more than 45,000 from Burundi
Umar Mahadia, 50, a Sudanese, has lived in Uganda for five years so far. He escaped to South Sudan in 2011 from Sudan after the people in South Kordofan and Blue Nile regions launched a second phase of an armed struggle against Khartoum.
The people from the two regions fought for independence from Khartoum alongside rebels in the South (now South Sudan), but were excluded from the 2011 referendum.
But a month before the birth of South Sudan after the July 9, 2011, the new nation started receiving refugees from South Kordofan and Blue Nile regions of Sudan.
And when the world's newest nation collapsed into a civil war in December 2013, the Sudanese refugees alongside South Sudan nationals fled to Uganda for safety.
Mahadia is among scores of Sudanese displaced in Uganda today. They are not certain when they will return to their motherland.
"When fighting started in 2011 in Sudan, my brother and I were grazing cattle. The government soldiers killed my brother and stole our livestock. I escaped to South Sudan and later Uganda in 2013. I have not seen my wife and our two children since 2013," he says.
Numbers
According to statistics from the United Nations refugee agency and Office of the Prime Minister (OPM), Uganda is currently hosting over 900,000 displaced persons from South Sudan, over 227,000 from DRC and more than 45,000 from Burundi. There are over 42,000 refugees from Somalia, over 17,000 from Rwanda and more than 20,000 from other countries, including about 40 Pakistanis.
Godfrey Byaruhanga, a camp commandant in OPM, says there are also Kenyan refugees who fled their country in the wake of the 2007 poll violence, and have not returned home.
He explains there are also some Tanzanians, Eritreans and Ethiopian refugees in Uganda living in the settlements and in Kampala city where most of them are engaged in business.
"Most of the Pakistanis and some other refugees are doing business and some are employed in Kampala. People have reasons for fleeing their country and if they feel it is not safe to go back you cannot force them to do so," Byaruhanga adds.
However, the UN refugee agency and OPM keeps tabs on the refugees outside settlement areas, and (settlements) where they were registered upon being granted asylum or refugee status are regarded as 'their homes' while in Uganda.
Citizenship
Refugees who have lived in Uganda for 'a long time' and wish to become Ugandans can apply for citizenship (naturalization) through the internal affairs ministry. However, OPM says, Uganda has not granted any refugees citizenship in the recent times. Prime Minister, Rukana Rugunda, recently said Uganda will keep her doors open to the displaced persons because 'no one choses to be a refugee'.
Last month, President Yoweri Museveni and UN secretary general, Antonia Guterres hosted an international solidarity summit on refugees. Uganda presented a plea to raise $2b (sh7.1 trillion) to continue providing essential services to over 1.2 million displaced persons and host communities. Uganda needs $8b (sh28 trillion) to continue caring for the displaced and host communities in the next four years.
Uganda's compassionate approach to the displaced allows refugees live in settlements where they receive plots of land and share with the indigenous people all services including, among others, education, health, water and employment.