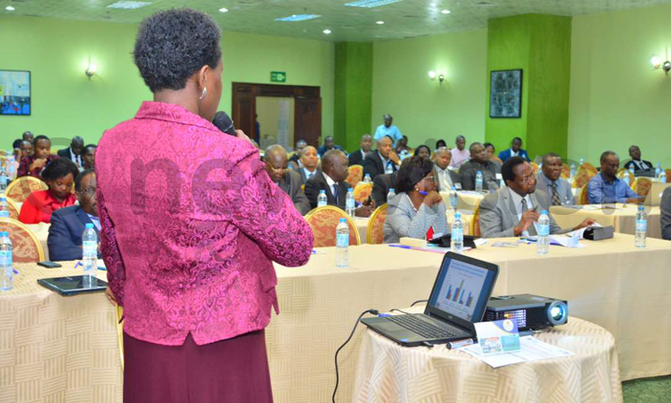 Most of the staff at health facilities are not empowered to use data
A total of 82 district health leaders are meeting at the Imperial Royale Hotel in Kampala to deliver some of the innovative interventions to challenges in their practice as developed over the past two years.
The project funded by the Centre for Disease Control and the Global Fund had different health teams at the district establish their specific challenges and thus develop tailor-made interventions to address them.
The targeted health managers included district health officers, directors of regional referral hospitals, members of regional performance monitoring teams, principal medical officers of urban authorities among others.
The key areas for intervention identified and addressed by the managers included; low adherence of health workers to malaria Test and treat policy, poor linkage of newly identified HIV positive individuals into HIV care, low immunisation coverage, poor stock management in health facilities leading to frequent drug stock outs, high levels of absenteeism among health workers, poor implementation partner coordination, poor data to inform decision making resulting in haphazard decisions that are not backed by evidence.
In his presentation, the district health officer for Jinja, Dr Dyogo Nantamu on increasing the utilisation of the malaria dose in pregnancy, showed that data driven monitoring and management processes were found to improve this challenge.
"Using data, the uptake for the malaria dose during pregnancy improved from an average of 28% to over 70%," he said.
The team introduced a tally sheet so as to record the visits each mother makes to the health facility as part of the interventions to ensure proper record management.
According to Orijabo Geoffrey from the Mbale Region Performance Monitoring Team, most of the staff at health facilities are not empowered to use data.
"Most health think the data they develop at health facilities is for the ministry of health and yet this plays a significant role in overcoming service provision challenges," Orijabo said.
The teams were taken through a nine month training program on identifying the challenges affecting health service delivery through root cause analysis and to design appropriate solutions.
According to Dr Joseph KB Matovu, the Program Support Advisor, district capacity building under the MakSPH -CDC fellowship, the ultimate goal of the project that commenced in 2015 was to improve health service delivery through a practical hands-on, work based approach.
This as stated by Professor Chistopher Orach, the deputy dean of Makerere University School of Public Health is a kind of training that every health worker needs to undergo. It is way above any kind of practical training especially speaking from the perspective of an academician.
Uganda's health sector has been faulted for poor service delivery with health facility challenges contributing significantly to mortality at all stages.