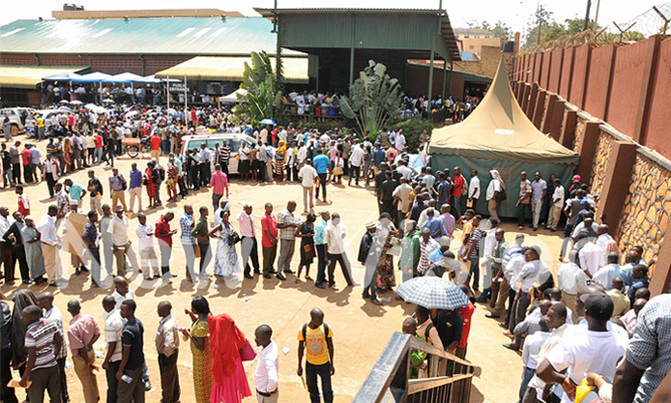 "We want people to stop queuing up at Face Technologies applying for driving permits," says Vincent Bagiire.
Hundreds of drivers queuing at Face Technologies to renew their driving permits last year. Photo/File

MOTORING

KAMPALA - The Ministry of ICT and national guidance has said it is about to start building an infrastructure that will enable Ugandans to apply for driving permits online.

The ministry's permanent secretary, Vincent Bagiire, said the technocrats at the ministries of ICT and national guidance and transport as well as National Identification and Registration Authority (NIRA) are developing the design for the online driving permit application system.

"We want people to stop queuing up at Face Technologies applying for driving permits. We now have most of the data and biometric at NIRA and that is going to ease the process for us," he stated.

Bagiire was updating the presidential investors' roundtable policy coordination committee in the Office of the Prime Minister in Kampala on Tuesday on the initiatives being undertaken by the ministry.

"NIRA and the Directorate of Citizenship and Immigration Control are already in discussions to develop a simplified process of applying for passports online," he stated.

The meeting was chaired by Prime Minister Ruhanaka Rugunda. Bagiire also said there are plans to set up an electronic procurement system to streamline procurements and reduce opportunities for corruption.

Rugunda directed the finance minister, Matia Kasaija, to sort out obstacles delaying the commencement of rehabilitation works for the cold chain facility for fresh and perishable exports at Entebbe International Airport.

The airport's cold chain facility has not been functioning for over the last five years, and private firms have been using their facilities to preserve the fresh and perishable exports before loading them onto cargo planes.

Tom Wasswa, the CAA manager marketing and commercial services, said a contractor has been procured to rehabilitate the cold chain facility at a cost of about sh1.3b.

The ongoing $200m first phase of the upgrade and expansion of the airport by the China Communications Construction Company is expected to involve the building of a new cold chain facility at the country's only international airport.