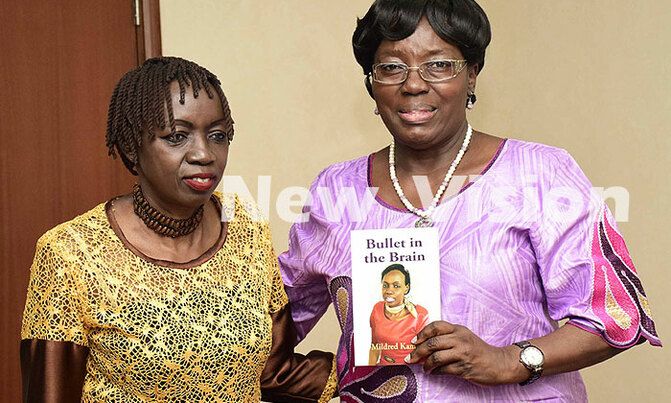 The book takes readers on an emotional rollercoaster of a true-life story that happened in 1981.
PIC: Speaker Rebecca Kadaga (right) holds the book titled, Bullet in the Brain' at its launch in Parliament. Left is author Mildred Kamau. (Credit: Maria Wamala)

LIFE EXPERIENCE | BOOK

KAMPALA - Tears rolled down her cheeks as Mildred Kamau narrated how she was sexually abused and shot in the head at the age of 15 by an elderly man she resisted to have an affair with.

She has since turned her moving story into a book titled Bullet in the Brain, which Speaker Rebecca Kadaga launched at Parliament.

The book takes readers on an emotional rollercoaster of a true-life story that happened in 1981 as an example of horrifying acts of sexual abuse and violence against women and children.

While presenting her book to Kadaga, Kamau, who hails from Lira district, urged MPs and government to do everything possible to stop such acts of sexual abuse and violence.

On the fateful day of January 3, 1981, Kamau was kidnapped by a one Ray from her home in Kololo and was taken through various moments of torture that ended with shooting her in the head before she was dumped at a missionary hospital - left for dead.

According to her account, Ray had earlier often tried to establish an intimate affair with Kamau but she had declined his advances.

'Guns are greatly misused'

Kamau, who has difficulties in standing because of the damage that arose from various accidents she had after being shot, asked government to compensate her.

"I was shot by a government gun and on that account I would wish to be compensated."

The born-again believer who goes to Watoto Church says in her book that even after her tormentor had shot her, he followed her to the hospital and many other places, attempting to end her life.

He died in 2000.

"Government should stop brutal killings and violence against women and children. Guns should not accessed by anyone. Ray got the gun he used to shoot me from a government soldier. Guns are greatly misused."
In her remarks, Speaker Kadaga said Kamau's story is extraordinary.

"Her story is very unique and at first it sounded unbelievable to me. I am happy she has put it into a book. I thank her for the courage to write about her experiences. I also thank her for her resilience which has enabled her reach her dream."

Kadaga wished Kamau's work is distributed in schools to educate young people about acts of sex abuse and violence against women and children.

She bought books worth sh1.5million for her office and recommended it to Ugandans.

'Story is very touching'

Meanwhile, Jean Rwebembera, a Good Samaritan who housed Kamau when her tormentor was still pursuing her, said: "We want government to do something about people who use violence against women and children. Acts of sexual abuse like raping should be fought."

Joshua Sentongo, a filmmaker with VC Business, is connecting Kamau to Hollywood for a film out of her story.

"Her story is very touching out of which we can have an educative and entertaining film. We appeal to government to waive taxes on the film industry because they scare away investors in the industry. That is why many films about Uganda continue to be produced from other countries because the government policy makes it expensive here," said Sentongo.

Annet Arinaitwe, who fellowships with Kamau at Watoto, said her story is as touching as it is educative.

"Her story is very painful and yet very educative. Government should arrest such culprits like Ray and punish them. Many such incidents are happening and the victims culprits go scot-free."

Kamau's cousin Michael Ocero, who appeared engulfed by grief, expressed dismay that such shocking abuses are happening in the country unabated.

He appealed to government to have effective preemptive to stop such violations from happening and to ensure that perpetrators of such crimes are heavily punished to scare others from repeating similar crimes.