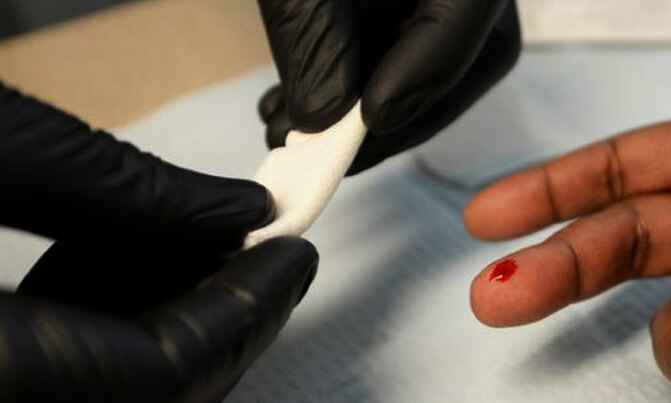 In chilling revelations, we find that the dead man had left a number of hints that he would end his own life.
PIC: In 2015, an estimated 36.7 million people were living with HIV. (Credit: AFP)

HEALTH | HIV/AIDS

He was last seen Monday evening at his usual bar singing the late Paul Kafeero's 'Walumbe Zaaya', a kadongo kamu song on HIV/AIDS.

Locals said he held no grudges with anyone in his area but he reportedly told some of his friends that he couldn't bear carrying on with life anymore.

Why? He had found out that he was HIV-positive. According to his mates, he said he would find a solution.

And, true to his word, he did find a way out.

Julius Kyaligonza, 30, was found hanging lifeless from a mango tree Tuesday morning. It was a sight that sent a ripple of shock and grief amongst the residents of Kaitabahindi village, Kibanga ward in Kagadi town.

And more chilling, this was only hours after he had sang fallen Ugandan musician Kafeero's emotional song on a scourge that continues to affect millions of families across the world.

According to Kyaligonza's family, he had been staying with his mother Josephine Asaba after splitting with his two wives over domestic conflicts.

One relative who asked not to be named said the dead man sold off his property after founding out that he was living with HIV last weekend.

His mother confirmed that he had been living with her for two months now after parting ways with his wives.

"My son developed a family misunderstanding with his wives two months ago and had vowed never to remarry. Every evening he would go at a nearby bar for leisure but could return before 10pm but to my surprise, he never returned on Monday," said the distraught woman.

"I am left with two of his children aged six and 10. I don't know what made him commit suicide. I only heard from his friends that he tested positive to HIV," she added.

Kagadi District Police Commander, Onek Ojara Romeo confirmed the death and identified Kyaligonza as a resident of Kaitabahindi village.

Th village chairperson, Omuhereza Byaruhanga Kirimunda said Kyaligonza took his own life because he might have doubted his future life.

Perhaps the village leader should have taken seriously the early warning signs.

"I received information over the weekend that Kyaligonza went to Kagadi Hospital for a sero-status test and results came back positive to HIV. He also revealed to some of his friends that he couldn't afford living on earth suffering and that he would look for a solution."

The chairman said Kyaligonza was not reported to have had any issues with anybody in the village.

It emerged that he was seen buying ropes earlier but no-one would have guessed his motives.

Kagadi DPC Ojara said investigations are going on.

"It is true that the deceased committed suicide but we are yet to ascertain the exact reason he committed suicide. The allegations that he tested HIV-positive is yet to be verified as we haven't got the facts from medical officers at Kagadi Hospital," he said.