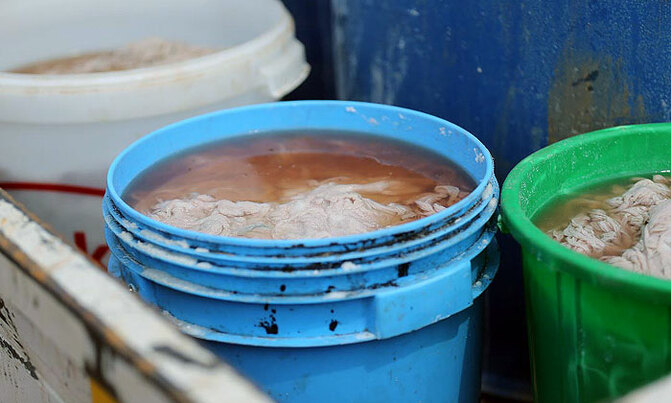 One resident says the area had been "stinking for the last three years".
(Credit: Juliet Waiswa)

HEALTH | INSPECTION

Kampala Capital City Authority (KCCA) has arrested and charged four men caught in Kampala ferrying rotten pig intestines said to be for making sausages.

The suspects, all residents of Mutundwe, Mbawo zone in Rubaga division, were intercepted after a tip-off by residents. City authorities were told that the men were packing intestines in large containers onto a truck to an unknown destination.

They are Brian Kyagulanyi, 26, Daniel Ochieng, 39, Godfrey Kiiza, 42 and Ednine Damba 23. They were charged before City Hall Court under the Public Health Act.

Residents had long complained to KCCA about a heavy foul stench in the area but had only failed to catch the men red-handed.

One resident named Nalwanga said the area had been "stinking for the last three years".

"We tried to engage KCCA but these people have been hiding," she said, adding that the landlord, George Ssentamu (pictured below), gave the suspects a place to operate their business, and does not seem bothered by the "sickening" stench.

"We have been suffering with this problem for the last three years, but the landlord does not mind. He is only interested in getting money."

Responding to such comments from the fed-up locals, the elderly Ssentamu was unapologetic. "I do not smell the stench, and if the tenants cannot bear with being around here, they can leave."

Meanwhile, Dr. Emilian Ahimbisbwe, KCCA's supervisor for health inspection and education, told New Vision that they impounded the vehicle (UAZ 149X) onto which the rotten intestines were being loaded in nine filthy drums and buckets.
He said their enforcement team moved in to arrest the group after being informed by concerned residents.

The four were found with dirty containers washing the intestines in dirty stagnant water clearly hazardous to human life.

Ahimbisibwe said they were not sure where the intestines were headed but some residents said that some Congolese nations have been frequenting the place.

The intestines were reportedly being salted to preserve them.