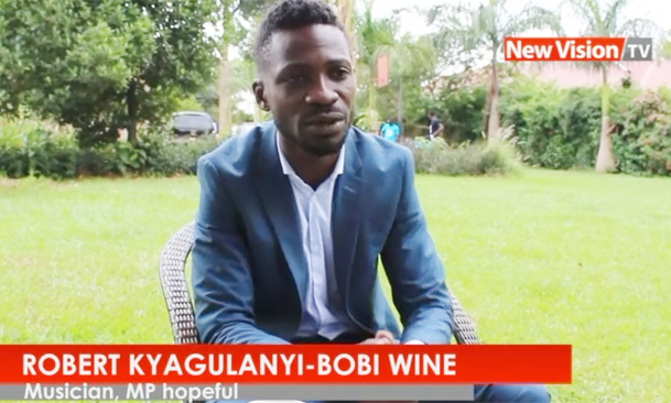 He beat NRM's Sitenda Ssebalu (came second with 4,566 votes) and FDC's Apollo Kantinti (got 1,832 votes).
By Joshua Katamba, Monica Acan and Simon Masaba

In a Passionate plea, Police has urged the new Member of Parliament (MP) elect for Kyadondo East, Robert Kyagulanyi aka Bobi wine, to promote peace and safety in his area.

While addressing the weekly, Police conference at the Police headquarters in Naguru, a city suburb, yesterday, the Police spokesperson, Asan Kasingye asked Kyagulanyi to work with authorities (Police) in order to promote security in the area especially through community policing programmes.

Subsequently, Kasingye congratulated Kyagulanyi upon his land mark victory.

Kyagulanyi, was last Thursday, declared the elected Kyadondo East MP with a landslide victory. Kyagulanyi, got 25,659 votes out of the 32,999 total number of votes cast.

He beat NRM's Sitenda Ssebalu (came second with 4,566 votes) and FDC's Apollo Kantinti (got 1,832 votes).

The other candidates were independents Dr Sowedi Kayongo and Nkunyingi Muwadda.

The Kyadondo East parliamentary seat fell vacant, in July last year, after the High Court in Kampala nullified the election of Kantinti citing irregularities by the Electoral commission.

The court indicated that there was noncompliance with electoral rules governing the parliamentary Election Act by the Electoral Commission.

Preach peace
During the press conference yesterday, Kasingye observed that the MP-elect (Kyagulanyi) preached 'edembe' literally meaning peace through-out his campaigns and they (Police) have asked him to stick to it (peace).

"I had a chat with him and discussed the same (about peace)," Kasingye said. This is not the first time Police is patterning with Kyagulanyi to fight crime.

In 2013, the then Kampala Metropolitan Police Commander, Felix Kaweesi (RIP), worked with Kyagulanyi to champion high-end crime that rocked Kamwokya suburb.

Kyagulanyi, formed the Fire Base Crew in Kamwokya, an area he named Uganja land. It is through these ghetto hallmarks of the Kamwokya territory that Bobi Wine honed his musical skills to perfection and later named himself the president of the lowly area that was largely dominated by destitute and impoverished youth, who saw him as a symbol of hope.

Arrests

Kasingye said a total of 27 people were arrested in connection with violation of various electoral offences. Without revealing their identities and exact crimes, Kasingye said the suspects are still held pending being arraigned in Court.

Kasingye said the Uganda Police Force together with other security forces teamed up to ensure safety and calmness during the bi-election in which the people of Kyadondo East voted for their MP.

On Sunday a local television station quoted, Kyagulanyi to have postponed his victory party until his supporters (27 suspects) had been released from custody.