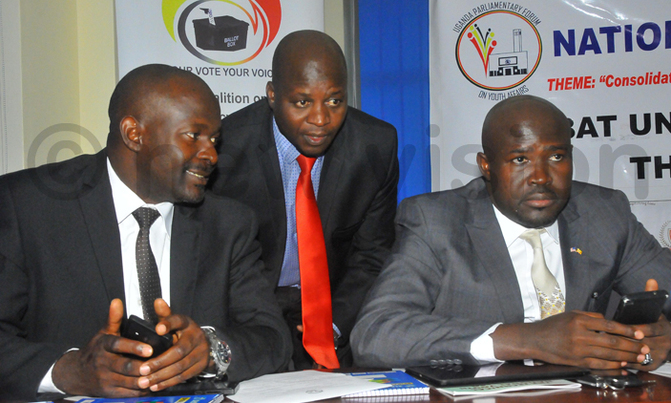 Various youth interventions need to be harmonized
Youth legislators are preparing a paper which when complete would birth a private members' bill for creation of a development bank strictly for youth affairs, parliamentary forum on youth affairs chairperson Mpaka Mwine has said.
The idea is to have a youth development bank that would in long run amalgamate existing youth programmes, including the livelihood fund, venture capital and the education-centred students' loan scheme for "better dispensation and access" to the finances.
The youth MP for western Uganda said they were planning a youth development bank bill highlighting inadequacies in existing youth programmes as justification for the financial institution.
This was at a youth forum at the ISBAT University in Lugogo Kampala, which attracted over 200 young leaders from across the country and selected 50 legislators.
Arua Woman MP Maureen Osoru said the various youth interventions need to be harmonized - and what a better way to achieve it than under a bank, calling on the house who supported the idea to raise hands. Majority of the youth put their hands in the air.
"We have so many youth interventions, but harmonizing them is another issue. We need something that can cater for youth in school, those out (of school), and others (who have never been to school)," the woman MP said.
Presenting a draft on how the proposed youth development bank would operate, Maria Alesi from the Friedrich Ebert Stiftung said the institution, like any other financial organ, would abide by central bank regulations, but not be profit oriented.
It will be financed by Government, and function almost the same way the Uganda Development Bank is. Loans will attract minimal interests to just enable the institution to run.
"(The current youth livelihood programme) attracts an interest above 10% and youths have to come together to access funds and the venture capital fund requires them to already be having existing businesses," she said.
The Bank will take into consideration all these shortfalls and try to reach every young person in the country.
"All these funds government allocates to the youth livelihood programme and the venture capital and students loan scheme can be channelled through this bank," she said.
Then, youth can access funds after managers assess their proposals and determine they are worth financing.
They will be revolving funds, which should sustain continuity.
The youth livelihoods programme was launched in 2013 after enrolment of the youth venture fund. Sh265b was earmarked for programme. And more than 78, 178 young men and women have been supported to start income generating projects.
But a report last year punched holes in the youth funds calling for review.
Researchers led by Economist Juliet Ssekandi said both programmes: Youth Venture Capital Fund and Livelihood programme did not emphasize "credit counselling". And, as consequence, a number of youth were falling prey after they misused the borrowed money.
Kitagwenda County MP Abbas Agaba Mugisha also called for review of youth threshold ages from current 30 to 35 years, saying substantial numbers of 'young people' miss out on funds to start income-generating projects because of the 30-year ceiling.
He compared the situation to neighbouring Kenya and Tanzania where the age 35 is the ceiling for youth, saying 30 (in the case of Uganda) was limiting.
Many legislators in the house supported the move.
But if youth years are amended, it would also mean a big number of the current youth MPs would still be eligible to contest for elections (still as youth MPs) come the next general polls.