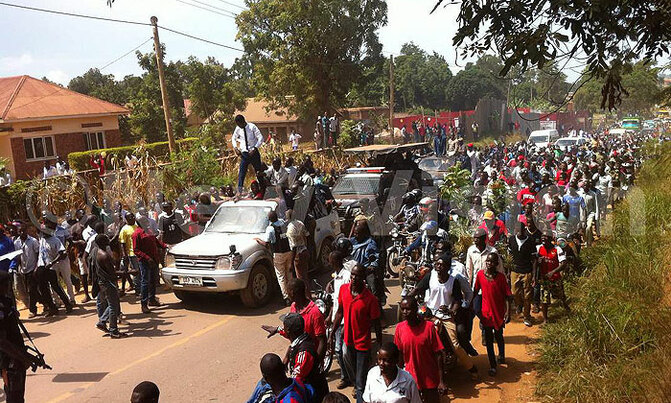 Bobi Wine has called for calm after his release at Kira Police.
PIC: Bobi Wine heading to Gayaza after his release

KYADONDO EAST BY-ELECTION

KAMPALA - On the last day of campaigns, candidate Robert Kyagulanyi, best known as Bobi Wine, urged his supporters to remain calm following his release from police custody Tuesday late morning.

Clad in a blue suit, he told a swarm of reporters and supporters immediately after his release from Kira Police Station that he had talked with the Electoral Commission and police as regards the venue of his final rally.

He had settled for a change of venue.

Reason?

According to independent candidate Bobi Wine, he was told that NRM party chairman President Yoweri Museveni would be in the same location today to campaign for his party flagbearer Sitenda Sebalu and therefore the musician was reportedly asked to change venue.

As such, Bobi Wine and co agreed to hold their final rally at Bulamu in Gayaza "in order not to cause a presidential embarassment".

"I don't want to be a remembered as a violent man. The campaigns have been peaceful. I want my supporters to remain calm," he urged in a vibrant tone.

"One thing you can't change is change. They arrested me and now they have released me," said Bobi Wine, drawing huge applause from his supporters who thereafter made way for him to his waiting campaign vehicle.
The moment Bobi Wine was blocked from carrying on with his rally

'Risked being disqualified'

But moments before his release, Frank Mwesigwa, the Kampala Metropolitan Police commander, told reporters that they had not arrested the renowned musician, underlining that they were instead "engaging him" on campaign guidelines as regards his final rally.

"We have agreed on a new venue in Bulamu, Gayaza. His earlier venue violated the Electoral Commission campaign guidelines and he risked being disqualified.

"I'm from a meeting with Bobi Wine. He is going to be released shortly and he will not be charged."

Earlier, it was pandemonium as Bobi Wine's rally was blocked in Kasangati and him taken into police custody. His lively supporters clashed with police operatives, demanding his immediate release.

Some were seen hurling stones at the security personnel during the tempestuous confrontation. They sang songs of praise for "Our man! Bobi Wine!" amid the dusty, stormy atmosphere.

Later, Bobi Wine was driven off to Kira Police Station where his wife, Barbie, was scuffed through the heavy security detail to see him.
It is understood that earlier, Forum for Democratic Change (FDC) politician Dr Kizza Besigye was headed for Kira Police Station, as was Apollo Kantinti, who is also a candidate.

Kantinti, who recently accused opponent Bobi Wine of defacing his campaign posters, suspended his final rally to seek Bobi Wine's release.

"We are together in this," he told journalists before setting off to Kira Police Station.

The conclusion of these campaigns has been as fiery as the buildup, which has seen candidates throw accusatory barbs at each other, including one particular episode involving the defacing of rivals' posters.

Thursday is election day, and it is hoped the dust will finally settle once the eventual winner has been officially announced.

Sitenda Sebalu. Robert Kyagulanyi. Apollo Kantinti. Nkunyingi Muwada. Who will it be?


ALSO RELATED TO THIS STORY

Kyadondo East race: Bobi Wine arrested