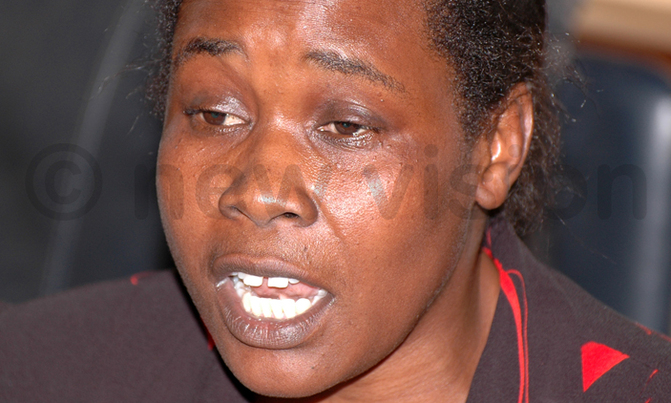 Former MP Soroti County, Peter Omolo last week succumbed to cancer at the age of 62
Minister of State for Teso Affairs, Akiror Agnes Egunyu.
The Minister for Teso Affairs, Agnes Akiror Egunyu was on Monday blocked by members of the opposition Forum for Democratic Change (FDC) from delivering President Yoweri Museveni's condolence message at the burial of the former MP Soroti County, Peter Omolo.
This happened when former Serere County MP Stephen Ochola who was the master of ceremonies, Akiror to give deliver her remarks before FDC president, Maj Gen Mugisha Muntu and former Serere woman MP Serere Alice Alaso delivered theirs.
Omolo who succumbed to cancer at the age of 62 was an MP from 2006 to 2011 and also served as a Constituent Assembly (CA) delegate in 1995. He is survived by two widows, 14 children and 12 grandchildren.
According to Akiror, protocol was not observed by Ochola, saying since she was the Minister for Teso Affairs and also a representative of the President; she should have spoken after everybody else had.
Ochola however was left furious and declined to listen to the minister's request, and told her that she would not speak again.
"You are not going to talk again from here as a long as I'm an MC," Ochola said drawing jeers from the mourners.
This then angered most of the family members and the mourners who were eager to listen to the President's remarks since he once donated two chicken incubator machines, and irrigation pumps to Omolo as a model farmer in the district.
Akiror then gave a brief speech as a former district Woman MP for Kumi district, but not as a Minister and the President's emissary.
She took her seat until the burial ceremony was concluded, then handed sh10m that the President donated for the burial arrangements to the family members.
Immediately after Muntu had given his speech, Rev Fr Francis Kayaye of Immaculate Parish, in Soroti town also started mass, blocking other guests from talking.
He then announced at the end of the mass that a handful of opposition members and the family of the deceased had been selected to escort Omolo's body for burial.
"If you are not part of the members that I have mentioned, please remain seated, and respect what we are going to do from there. And while you are seated do not make this place a market," Kayaye said.
New Vision later learnt that a section of the opposition members were disappointed that Omolo was not honored in Parliament.
After the burial Soroti district council honoured Omolo, and unanimously resolved to give a name to one area in the district or a town council. Former FDC president, Dr. Kiiza Besigye also joined the mourners later.
Akiror later in the evening convened a press conference where she regretted the mess saying it had brought shame to Itesots.
She appealed to the relatives of all the people who die in Teso to always be mindful of the people they allow to manage the burials.
"It was not the FDC which had died, but our own Itesot who had been a great leader in this country," she said adding that if FDC didn't want NRM members at burials of their members then they should announce on radio earlier.
"And what is hurting the most is when members claiming to be of FDC are making funerals places where they can go and do drama," she said.
The former woman MP for Amuria district, Rhoda Acen, mobilizer Teddy Acham, Moroto RDC Joseph Osotto, Soroti district model farmer Winnie Asege, Soroti Municipality Youth Councilor, George Okoit, the former Kumi District Councilor for Nyero, Mary Immaculate Apio were among the people who attended the press conference at the Ministry of Teso Affairs offices in Soroti town.
Museveni described Omolo a man who displayed a level of integrity and was a key advocate for political reforms and justice in Teso region especially in 2001.
"Death has robbed the family of a great father. I trust that those he leaves behind shall emulate his great legacy," Museveni said in a message read to the press by Akiror.
He said Omolo was an assertive and accommodative delegate more so with the advance of multiparty dispensation.
He said the nation shall remain indebted to him for the invaluable services he rendered during his tenure of service.
"We share in the grief of the family and pray the Almighty God to grant you His comfort at this most difficult time," he said.