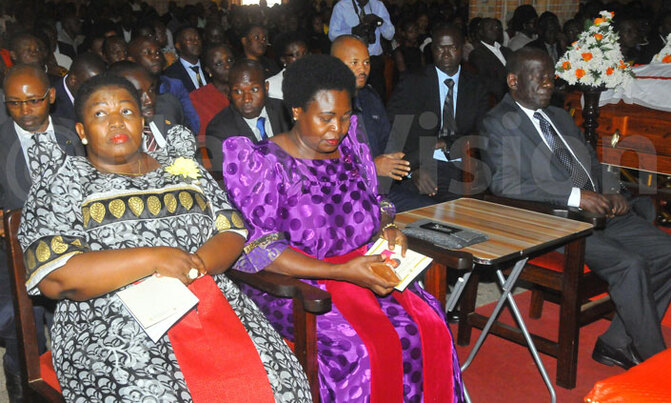 Speakers praised the work of the fallen minister in promoting Water, sanitation and protection of environment both at local and International level.
Kasule Lumumba, Ruth Nankabirwa and Ssekandi during the requiem mass
Former minister Maria Mutagamba, whose passion for tourism, water and environmental conservation, earned her the nickname 'Mama Water Africa' in international forums, has been described as hard working and principled.

Speakers acknowledged the work of Mutagamba in promoting Water and Environment both at local and International level. The requiem mass was attended by the Vice-President Edward Sekandi, NRM Secretary General Kasule Lumumba among other politicians.
Left-right: Semakula Kiwanuka, Paul Kawanga Ssemwogerere and Muyanja Ssenyonga during Mutagamba's requiem mass at Rubaga Cathedral. Photos by Wilfred Sanya

The Archbishop of Kampala diocese Cyrian Lwanga commended the role she played in the canonization the Uganda Martyrs.

Hundreds thronged Rubaga Cathedral to pay their last respects to the former legislator.

According to the family, Mutagamba succumbed to cancer of the liver at Case Hospital, Kampala, where she was admitted about three weeks ago, following stomach complications. She suffered from gallstones as well.
Her associates have described her as a zealous servant. Mutagamba, 65, who also served as the Rakai district Woman MP from 1989 to 2016, executed her tasks with commitment. The NRM treasurer, Rosemary Namayanja, told New Vision: "She did everything wholeheartedly; her work became part of her daily life, even outside office.
Former DP president general Paul Ssemwogerere lays a wreath at the casket containing Mutagamba's remains

When she was in tourism, she would have, as part of her dressing code, something associated with tourism or Uganda at large. Words cannot describe her level of passion for whatever she did." Mutagamba and Namayanja were members of the Democratic Party (DP) between the 1996 presidential election and the early 2000s, before joining the NRM.
Mutagamba crossed to NRM at the height of the 1999 national referendum. She had earlier served as national campaign task force chief for Dr. Paul Kawanga Ssemogerere during the 1996 presidential election.

Thereafter, she was appointed acting DP deputy secretary general and subsequently acting secretary general. Speaking to the New Vision yesterday, Paul Ssemogerere said: "We were a team. She was hardworking and it is because of her good performance that I decided to work with her during my campaigns. Her death is a big loss for Uganda."


Namayanja says as DP youth wingers, they admired Mutagamba's organisation and style of leadership when she chaired Ssemogerere's national campaign task force. "She worked hard in the campaign and this was inspiring for us, as Uganda Young Democrats," Namayanja said, adding: "Later, when I met her in the Cabinet, you would still see a passionate person, on matters concerning the various ministerial posts that she held. She spoke with authority, using fine details and with eloquence." In the Constituent Assembly,

Mutagamba was among a handful of female delegates who walked out, protesting against the decision to deny Uganda a multiparty system. Former Vice-President Prof. Gilbert Bukenya said the death Mutagamba was a big loss to the country.
Bukenya is said to have been one of the people who wooed Mutagamba to defect from DP. "I have lost a friend in Mutagamba and, as a country, we have lost a nationalist. Her death has greatly shocked me," Bukenya said.

He said when he met her and asked her to join the Government, it was about bringing her knowledge and experience and understanding into the NRM, to pursue a course of reconciliation among Ugandans, which 'she accepted to do with an open heart'. "She was a strong supporter of the DP and held a position of secretary general, but she threw away all those big titles and joined a Government which she earlier had opposed, in order to contribute to the development of her country," Bukenya observed. "When all, we, politicians finally die, Uganda will remain. We should not think so highly of ourselves," he observed.

of Rakai and Uganda. He said Mutagamba has been a role model who came from a humble background and rose through the ranks to become a minister. Kasamba explained that Mutagamba, together with

other leaders from Rakai, including Brig. Elly Kayanja and the late Manuel Pinto, formed the Rakai Development Association, through which they carried out a campaign against HIV/AIDS and attracted a number of nongovernmental organisations to support the sick and the orphans.
Mutagamba also played a big role as the chairperson of the Rakai Parliamentary Association. Sowedi Mukasa, who has served as Mutagamba's political assistant since 2006, said he advised her to retire from active politics and she accepted the advice.

Mukasa said while serving as the Minister for Water, Mutagamba was named advisor to the United Nations Secretary General on water issues, a responsibility she executed well. Mutagamba was also involved in the promotion of Mama Water Africa, an organisation she initiated to avail clean water to women. At least 18 districts in Uganda benefited from it.
As tourism, wildlife and antiquities minister, Mutagamba set up a number of initiatives, including Miss Tourism, for which she became the patron, up to the

Mathias Kasamba, an East African Legislative Assembly legislator and former Kakuuto County MP, described Mutagamba as a strong political mobiliser, hard worker and a good leader who was dedicated to the development

time of her death. He said at the time of her death, she had just been awarded an honorary doctorate by a university in Canada. Steven Asiimwe, the executive director of Uganda Tourism Board, said Mutagamba's versatile way of work was exhibited during her passionate Youth for Tourism campaign and the Miss Tourism Uganda initiative.
"Over the years, she has played a major role in mobilising national and international leaders around major challenges in the water and sanitation area, as well as tourism in Africa," Asiimwe said.

Burial arrangements According to Kasamba, Mutagamba will be buried on Wednesday at her ancestral home in Gamba village, Kakuuto, Rakai district. On Tuesday, Mutagamba's body will be taken to Parliament for members to pay tribute before it is taken to Kakuuto for burial.