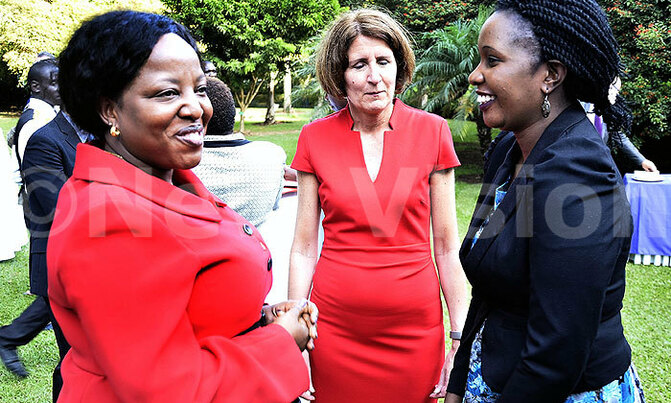 The celebration was attended by the university's alumni who went through the scholarship program to study Master's programs for one year.
PIC: From left, Dean of Law in Cavendish University Uganda, Dr. Olive Sabiiti, the in charge of Equity and Merit Scholarships for Manchester University, Joanne Jacobs and corporate lawyer and old student of Manchester University, Sheila Abamu at the function. (Credit: Ronnie Kijjambu)

EDUCATION | SPONSORSHIP

When he graduated in 2013 with a Master's of Arts in Global urban planning and development from Manchester University in the United Kingdom, Andrew Amara came back not only with a prestigious degree but a brilliant idea that is now changing people's lives in Nansana.

He used his experience at the university to set up low cost modern buildings in Nabweru slum, Nansana. His first project was to build a house for a family of nine.

"Initially they were skeptical that we could build a house within a particular price. But they were also enthusiastic at the process with lots of ideas. Especially the mother and the children, who had a vision of what their dream house could look like," he said.

The houses are built using locally available materials such as bricks and cement but in a pocket friendly way that every individual can afford to have one using the little money they have.

Amara, who now runs Town Build, a construction and urban development consultancy firm, said that his idea was born out of desire to help local governments and communities develop their settlements in a much better and more sustainable way.

"It's rewarding that a man who's selling fish or a lady who has a market stall here can not only build a house, but also build it in a responsible way," he stated.

Amara's story was among the three testimonies that were showcased at Serena hotel on Saturday, last week, during a celebration to mark 10 years of existence of the University of Manchester's Equity and Merit scholarship in Uganda since its establishment in 2007.

The celebration was attended by the University's alumni who went through the scholarship program to study Master's programs for one year. A few among them were those who studied PhD's.
From left, the interim President of Manchester University Alumni Association in Uganda, Edwine Mugume, Vice President for social responsibility in the university, Professor James Thompson and Joanne Jacobs. (Credit: Ronnie Kijjambu)

The alumni, who now hold big positions in government and private sector, started arriving for the celebration at 5Pm, mixing and chatting about some of their fond memories at the university, over a cocktail at the Serena gardens before being ushered in for the main celebration where a sumptuous dinner was served.

Some of the big names from the university include; Keith Muhakanizi, the Permanent Secretary Ministry of finance, Geraldine Ssali, the deputy managing director National Social Security Fund (NSSF) and Dr. Louis Kasekende, the Deputy Governor Bank of Uganda.

The guest of honour was the former president of the Uganda Law society; Ruth Sebatindira who also studied a master's of international business law at the university from 2000 to 2001.

She reminisced about her experience at the university, notably the strange climate with darkness looming in at 3 PM. she said the experience was however, eye opening and made her to think differently when she came back to Uganda.

"I would not have had a chance in Deloitte and Touche if I had not gone to Manchester University. I still use the knowledge I acquired at my Law firm," she said.

Equity and Merit scholarship is a brain child of the former Vice Chancellor and President of Manchester University, Professor Alan Gilbert. It's jointly funded by the university, its alumni and Non-state organizations.
Former president of Uganda Law Society and former student of Manchester University, Ruth Sebatindira holds the constitution as she launches the Manchester University Alumni Association in Uganda. (Credit: Ronnie Kijjambu)

According to Joanne Jacobs, the current head of the scholarship program, the University waives the tuition fee in full and the generosity of alumni and NGO's covers students' living costs and flights to the UK.

"The scholarship aims to assist talented but economically disadvantaged students from some of the world's poorest countries to attain an education in fields which they would otherwise not be able to afford," she said.

The scheme operates in Uganda, Rwanda, Tanzania and Bangladesh and scholarships are available for students to undertake postgraduate Masters Degrees that are not available in their home country and which are intended to fill a particular skills gap.

Jacobs said they also offer scholarships for long distance learning. So far more than 250 students have benefited with 107 from Uganda, 36 from Tanzania and 30 from Rwanda.

"We are committed to making a difference in people's lives and improving communities," said Professor James Thompson, an associate vice president social responsibility, at the university.

He called upon the alumni to use their experience at the university and make a difference in their local communities.

The celebration was held under the theme '10 Years 10 Actions' and the alumni formed their association, University of Manchester Alumni Association in Uganda, with focus on three areas; partnerships and innovations, guidance and career development and social responsibility.

Under social responsibility, through the association, the alumni will raise funds for a scholarship for a deserving student from Uganda to study at the university and engage and volunteer in their own communities to address global social problems.