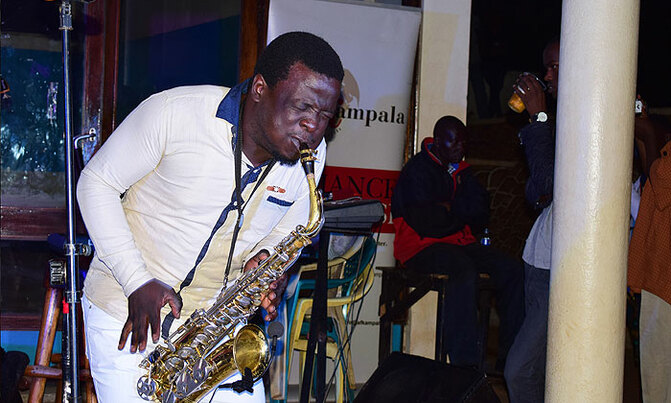 The event attracted the regular National Theatre crowd as well as new faces.
PIC: Michael Kitanda doing what he does best with his sax

ENTERTAINMENT

On June 19, at the National Theatre Alliance Française, an international organization that aims to promote French language and culture around in Uganda, teamed up with Pearl Rhythm, a local music group, to present several talented upcoming Ugandan artistes at the National Theatre as Day Two of the Fête de la Musique.

Fête de la Musique is a French annual week-long festival that was launched in 1982 and is now celebrated annually around the world. It is organized around World Music Day - June 21st - to celebrate music from all cultures.

Performers included celebrated Ugandan dancer Faizal Mostrixx, who put on a DJ set of danceable sounds fusing African beats and modern dance music, as well as an adorable duo of five year olds playing piano and singing gospel songs.
The crowd at the fest
One of the Eden family children performing

A folk group named Amara Band surprised the crowd with a sweet new sound, and Joash got them dancing to reggae rhythms. Zoey the Story Teller entertained with her stories from Eastern Uganda, and Michael Kitanda shut down the evening with his sweet sax.

The event attracted the regular National Theatre crowd as well as new faces who are following the festival from one event to the next. As the performances began, a program manager from the Theatre took the microphone to assure the audience that National Theatre was to be renovated, not demolished as rumours have it. He thanked everyone for continuing to support the Uganda Cultural Centre.

The Fête de la Musique festival held three more events in Kampala over the week; a perfume concert by French artiste Laurent Assoulen on Wednesday June 21 at Sheraton; a Hip-hop night at Alliance Française on Bukoto Street on Thursday 22 and the main / final concert at École Française on Lugogo Bypass on Saturday June 24. All these events started at 7:00pm and were free-of-charge with the exception of the perfume concert.