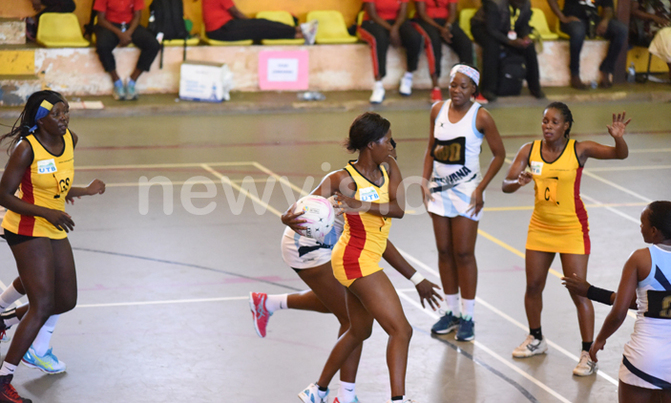 Proscovia who plays in England, managed 39 goals
Africa Netball Championship, Kampala

Results

Uganda 72 Botswana 29

Sunday;

2pm,

Malawi v Zimbabwe

4pm,

Uganda v Namibia

6pm,

Botswana v Zambia

The She Cranes opened their Africa Netball Championship campaign with a 62-29 win over Botswana on Saturday at the Indoor Arena, Lugogo.
Uganda's skipper Peace Proscovia placed the first ink on the She Cranes score sheet with the first goal 13 seconds into the game.

Proscovia who plays in England, managed 39 goals while goal attacker Hadijah Nakabuye also netted 3 goals as Uganda took a 42-14 lead at half time.
Team Botswana
In the second half, head coach Vincent Kiwanuka made changes, substituting Proscocvia with Martha Soigi.

Nakabubye, Betty Kizza and Wycline Natweta were also replaced by Racheal Nanyonga, Desire Obua and Florence Nanyonga.

In the third and fourth quarter, Soigi and Nanyonga together scored 30 goals giving Uganda a 72-29 win.
Team Uganda
Uganda now lead the table with 2 points and are expected to take on Namibia in their second game on Sunday at the same venue.

Meanwhile, Malawi will be up against Zimbabwe while Botswana return with a game against Zambia.
The six day event ending Friday has attracted six nations; Uganda, Zimbabwe, Botswana, Zambia, Malawi and Namibia.