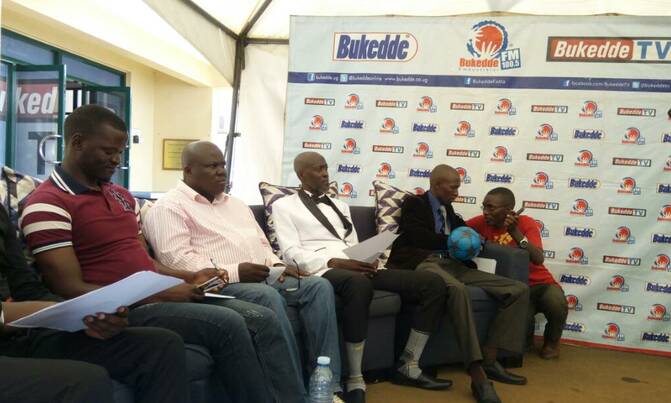 In July last year, High Court in Kampala kicked Kantinti out of Parliament. Court ordered for fresh elections and now the battle lines have been drawn
Who will take Kyadondo East?

By Wilson Manishimwe

It's less than a week to voting in Kyadondo East and Apollo Katinti, the FDC winner of the previous elections, was folding sleeves to gobble down NRM's Sitenda Ssebalu, Nkunyingi Muwada (Independent), Male Sowedi, when musician Robert Kyagulanyi (Bobi Wine) landed.

The musician has raised dust over all the previous calculations and it seems all of them have now to return to the drawing board.

In July last year, High Court in Kampala kicked Kantinti out of Parliament after Ssebalu sued Wakiso District returning officer Sarah Bukirwa, Kantinti and the Electoral Commission over election irregularities. Court ordered for fresh elections

On Saturday afternoon, Bukedde Tv1 arranged a live piblic debate for the politicians in the race.

Candidates have devised new methods of winning the vote as they explain below:

Sitenda Sebalu

He has decided to move house to house and through open campaigns so that he can take the vote. He said President Yoweri Museveni will boost his campaigns when he visits the constituency next week.

Bobi Wine

Robert Sentamu Kyagulanyi commonly known as Bobi Wine was represented by Moses Bigirwa. Bigirwa said Bobi Wine has held big rallies as well as mobilizing youth in developmental programmes through his songs.

Nkunyingi Muwada

Muwada said he has done community work as a way of influencing people to vote for him. He said he has moved to people's work places like gardens helping them to dig, plant among other things.

He said he has also mobilized people through sensitizing them on different issues affecting them such as lack of medicine in hospitals, lack of clean water among others.

Male Sowedi

Sowedi said said he has used a multi-skilled approach such as use of home to home campaign and open rallies at a go.

However, during speech, he said him and Sitenda are the only people that he thinks can effectively represent Kyadondo East.

The area's political dynamics

In August 2015, Kiira Municipality was carved out of Kyadondo East Constituency, when Parliament approved a proposal for the creation of 14 new municipalities.

From 2001-2006,the constituency was represented in the Parliament by Sebalu (NRM) who was later replaced by Sam Kalega Njuba (2006-2011) .Njuba defeated Sebalu with a vote difference of three votes, but stepped out in 2011.. Later, Ibrahim Semujju Nganda (FDC) stood against Sebalu and won(2011-2016).

Bobi Wine's music accolades have endeared him to young people.

Buganda Kingdom has a big influence in the constituency, the fact that the Kyadondo County headquarters are located in the constituency. All candidates have sought the blessing of the kingdom; Bobi Wine calls himself Omubanda Wa Kabaka, Sebalu is fond of making banners that has Buganda flag in the back ground and same applies to Kantinti.

However, staunch Baganda may vote Kantinti, due to the fact that he comes from the family of Sir Apollo Kagwa, a former prime minister of Buganda Kingdom.