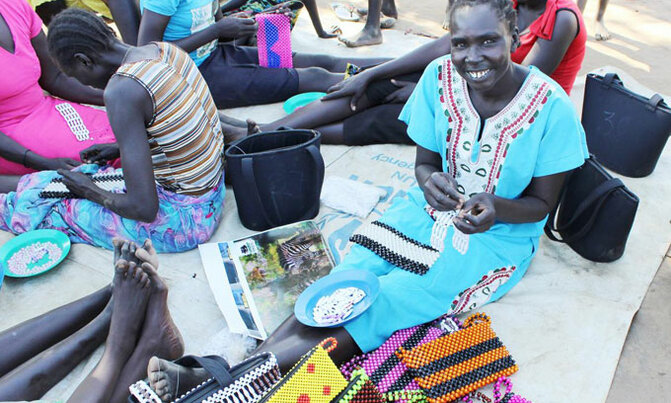 Today like the old adage that says that "one good turn deserves another", Ugandans are the ones helping thousands of South Sudan refugees running away from their country because of war.
Yar Bior, a South Sudanese refugee crafts beaded hand bags for a living in Nyumanzi settlement. Photos by Shamim Nalubega

When days were good in South Sudan before a civil war erupted in 2013, thousands of Ugandans crossed over to the country for business. In return, they pocketed dollars and lived bigger lives.

But gone are the old good days when Ugandans scrambled to go to South Sudan.

Today like the old adage that says that "one good turn deserves another", Ugandans are the ones helping thousands of South Sudan refugees running away from their country because of war.

The war that has displaced thousands of South Sudanese into Uganda pits forces loyal to President Salva Kiir's and rebels led by Riek Machar, the nation's ex-first vice president.

As a result of the war and famine, 5 million people in South Sudan face the threat of going without food that almost 2,400 every day flee their homes and cross over into Uganda.

South Sudan refugee crisis in Uganda

While many countries around the globe would close their doors to refugees, Uganda has decided to host over 800,000 South Sudan refugees. Furthermore, countries that open their doors to refugees keep them boxed in camps while Uganda offers them freedom and the same human rights like her nationals.

In Uganda's refugee settlements, each refugee is offered a 30x30 metre plot of land by the Office of the Prime Minister (OPM) where they construct permanent huts for shelter. The walls are built from mud, bricks and wood while the roofs from grass collected from the surrounding shrubs. Some lucky migrant residents who can afford iron sheet roofs have opted them for the grass thatched roofs.

Refugees also have the right to movement and work for a living in Uganda which is unlike the boxed-in-life they live in other countries around the world.

In some places, like Nyumanzi in Adjumani district-northern Uganda, refugees live in the same geographical area with the host community. They share resources like water sources, clinics and schools yet still engage in businesses and jobs together.

All this is attributed to the efforts of Uganda's government through the Office of the Prime Minister (OPM) in partnership with humanitarian organisations like Lutheran World Federation (LWF) and United Nations Human Commissioner for Refugees (UNHCR) which work tirelessly towards offering refugees a decent life in Uganda's settlements.

While OPM receives and provides land for refugee settlement, humanitarian organisations provide material, psychosocial and financial support to refugees. But the Minister in charge of disaster preparedness and refugees, Hilary Onek has raised a red flag, warning that government land designated for refugees is becoming limited since most of it is occupied.

Uganda's accommodation for refugees

Most of Uganda's settlements are filled with round brown huts called tukuls-meaning round houses. Children play in their compounds while others in the roads.
''We are living happily in our new plots and homes because it is peaceful and safe here,'' Akungu Bol, a South Sudanese refugee in Nyumanzi settlement says. By providing them with land in a safe place, Bol explains that the government of Uganda through OPM gives them hope of living happily again. LWF and other humanitarian organizations support OPM's refugee settling obligations by providing shelter to those with special needs and shelter construction materials to the rest. ''We provide huts for shelter to refugees with special needs like the elderly, separated children, those with physical and mental disabilities and many more,'' Livingstone Nabimanya, a Canadian Lutheran World Relief (CLWR) Project Manager with LWF says. He continues to say that the rest are given shelter construction kits consisting of a tarpaulin, ropes, a spade and an axe, to use for their shelter construction.

''I am happy that I got a warm hut for accommodation for myself, my sister and cousins too,'' says Bol Anei Bol, a 9 year old shelter beneficiary of the WASH, NFIs, Livelihoods and Shelter Support for South Sudanese Refugees and Host Communities project by LWF with funding from CLWR in Nyumanzi settlement.

Refugees also receive food, medical supplies, sanitary resources as well as core relief items. ''We get jerry cans, blankets, kitchen sets, basins and utensils, from UNHCR and LWF,'' says Nyankir Mayen, a 16 year old South Sudanese refugee pumping water from a borehole donated by CLWR through LWF in Boroli settlement.

Refugees in business

For many like Viola Kiden, the settlements have not only become a home but also a hub of business opportunities.

''I didn't have a job back home, but now I have a business and I have learned to make money,'' Kiden, a member of Evergreen-a cosmetic and candle making group in Boroli settlement says.

With other 14 group members, Kiden has sold more than a thousand candles at 200 shillings each since November, 2016. With the profits, the 15 ladies provide for their families.

''We can at least earn a living, provide food for our children and also enroll them in school,'' Jane Dropia, a member of Evergreen says. Evergreen is just one of the many business groups in Uganda's refugee settlements. Other than groups, some like Rose Asiajo, a restaurant Proprietor in Nyumanzi settlement have chosen to venture in business individually.

Since most of the refugees come to Uganda without skills and money to invest in livelihood activities, they are empowered through business skills' trainings and cash grants by humanitarian organizations, with LWF at the fore front.

''We have trained and continue to train thousands of refugees and the host community residents in business skills. With funding from other organizations like CLWR, we also offer cash grants as well as startup kits to those trained in business skills,'' Nabimanya says. ''I and the members of my group were practically trained for three days in soap making, packaging and marketing in May 2016 under the Empowering the Youth in Adjumani, a Solution Oriented Approach project,'' Sara Nyamuc, a secretary of Kuny-derot soap making group in Nyumanzi settlement says. ''After the training, we were given all the soap making chemicals like sodium hydroxide among others and 128 liquid soap containers by LWF with funding from CLWR,'' she adds.

Nabimanya explains that empowering refugees through livelihoods has not only improved their lives financially but mentally and socially too. He continues to say that through such activities, women are emancipated; they have a voice and are respected in their communities. ''With livelihood interventions, idleness among refugees is eliminated and the crime rate also declines since they are focused to development activities. Business activities in groups also play a major role in unifying refugees with tribal conflicts as Nabimanya explains that people of different tribes like the Dinkas and Nuers get to work and live together in peace and harmony.