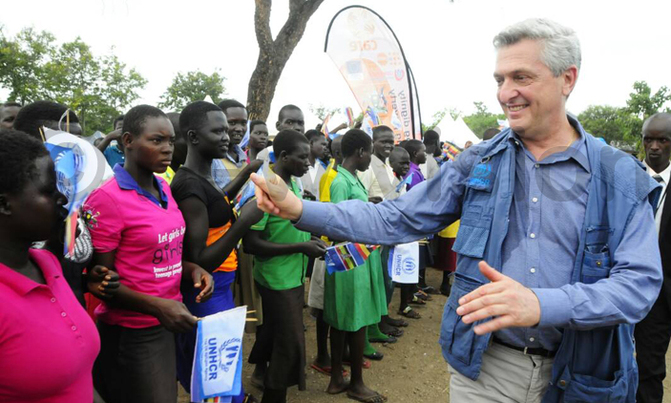 This is the transcript of UN Secretary General Antonio Guterres' press briefing after touring Imvepi refugee settlement
What we have all seen is the demonstration of the extraordinary generosity of the people and the Government of Uganda, receiving so many hundreds of thousands, almost 1 million, South Sudanese refugees as sisters and brothers and sharing with them their land and everything they have.
In a world where so many people are selfishly closing their doors, closing their borders, not allowing refugees to come, this example deserves praise, admiration from the whole international community.

Tomorrow, the international community will have the opportunity to express its solidarity to the refugees and the people and Government of Uganda, responding to our appeal for massive financial support, both for humanitarian aid for the refugees but also for the investments needed for the education system, the health system, the infrastructure, the environment of this area, to be able to cope with this enormous challenge. And, at the same time, I cannot forget that twelve years ago I was here, in June, in this same place, I was [marking] World Refugee Day with South Sudanese refugees that were singing with joy because they were going back home soon. And indeed, I was able a few years later to accompany many of them across the border, going back home, reuniting with their families and hoping that their new country would be in peace.

Unfortunately, the leaders of the country have not deserved the people they have. And the people are suffering enormously with this endless war. It is time for the war to end. It is time for all the leaders of South Sudan to understand that they need to stop this war. And I am very grateful for the efforts made by the Heads of State of the region, the regional organization, the IGAD [Intergovernmental Authority on Development], efforts made by the African Union, by the United Nations itself, in order to create the conditions for peace to be re-established. Peace in South Sudan is a must for these people to be able to have a future.

Q: Secretary-General, you are asking for $8 billion over four years. You sought $1.4 billion, you only got 18 percent. Are you sure that this time, the international community will listen to your pleas?

SG: That is the reason you are all here! [pointing at the media]. It is to help me convey to the international community this very strong message. When we have now four million people displaced in South Sudan – two million inside and almost two million outside, with half of them in Uganda – it is absolutely essential that this solidarity, this generosity, shown by the people of Uganda and the Government of Uganda is matched by the same solidarity of the international community.
Q: Mr. Secretary-General, the last time you were here, you were here as High Commissioner for Refugees. Twelve years later, you are back here as UN Secretary-General. A lot of the time, you are asking for funding, which wasn't that very much forthcoming. Will it happen this time, now that you are in a better position probably to ask?

SG: Some funding has been coming, fortunately, but not enough. That's the reason why I'm here again. Last time was not twelve years ago, since then I have come many times to Uganda because Uganda has always been a very generous refugee-hosting country. Indeed, it is clear that the international community has not been able to match the generosity of those countries – like Uganda – that, in these difficult periods in the world have kept their borders open, the doors open and the hearts of their people open.

Q: Since the CPA [Comprehensive Peace Agreement] in 2005, the UN has had a massive presence in South Sudan the whole time. Yet, we are here. What responsibility does your organization bear for what has happened?
SG: I think we are all responsible. I think, first of all, the leadership of South Sudan is responsible, but we are all responsible for not having helped create the conditions for this country that emerged as a new independent country to be able to live in peace and harmony among its different community groups. I think that the international community needs to do everything possible to stop the terrible suffering of the South Sudanese people.

Q: Mr. Secretary-General, you were here twelve years ago, now you are here again. What's to say that you or your successor won't be back in another twelve years, given the state of South Sudan, what's happening in Congo…?

SG: Unfortunately, when the UN High Commissioner for Refugees was created after the Second World War, it was created for five years and now it is a structure that is permanent. What we have seen is that the international community has today limited capacity to prevent conflict and to timely solve them. That's the reality we are facing. So two things are necessary: to boost our diplomatic efforts to allow for conflicts to be solved and to mobilize more resources to prevent new conflicts.
But, at the same time, it is necessary to understand that for the moment there are dramatic humanitarian needs and dramatic pressure on the infrastructure – the education, the health – of these refugee-hosting countries, so the international community needs to step up and increase its humanitarian and development aid.

Q: Do you think it's time for you to deal with the leaders of South Sudan themselves?

SG: I have been talking to them many times, and many others are doing so. I think we must all give them a very clear message: it is time to stop this war.