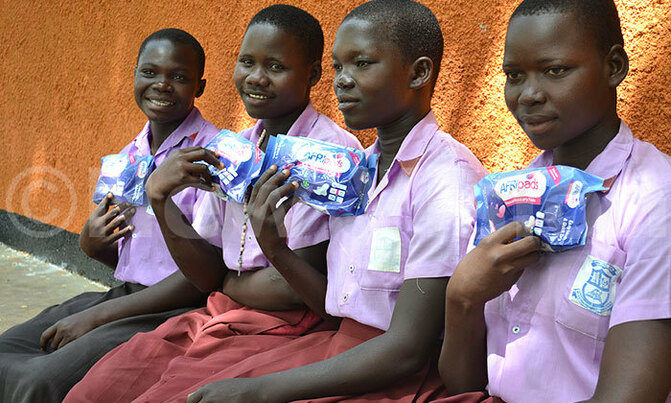 "I was always forced to stay home and rip off some piece of cloth to use."
EDUCATION | GIRL CHILD

Rose, not real name, is a Primary Six pupil in Ayilo II Primary School, in Oyilo village, Adjumani district. She says whenever she was in her menstruation periods, she would go back home.

This was because she feared to be mocked by her schoolmates, especially the boys.

"My parents would sell some portion of the food distributed to us to buy pads. However whenever the food was over, I would stay home for one to three days before going back to school, hence skipping lessons," she says.

It is a similar story to Helen's, not real name too.

She also used to miss school whenever she was in her menstruation periods. Her parents who are refugees from South Sudan are not working so they could not afford to buy her sanitary towels.

Whener Helen went to school without the pads, she could not play or even walk. "I was always forced to stay home and rip off some piece of cloth to use."

But their situation changed when Plan International Uganda, with funding from Sida, Sida, UK National office and CHAF started distributing both reusable and disposable sanitary pads to over 7,328 girls in six primary schools both in refugee and nearby local schools.

Florence Aryemo, WASH Officer in Emergencies at Plan International Uganda, says the girls benefiting from the sanitary pads are in the age range of 12-17 years.

"In partnership with AfriPads, we have distributed 500 reusable and low-cost sanitary towels to girls at Ayilo II Primary School to use during their periods.

"The reusable sanitary pads support girls to continue with their studies during their periods. The girls now have a sustainable method to handle their menstruation," she says.

Aryemo adds that reusable pads are cheaper than the disposable ones because she can they can be used again and again.

Helen says that because of the sanitary pads now, she no longer has to stay home during school time because of menstruation periods.
Some shun the pads

Although sanitary pads have prevented girls from skipping school during their periods, their is the issue of taboo particularly for many of the refugee girls.

One parent who preferred anonymity said that as the Dinka tribe in South Sudan, blood is something one should never encounter.

"That is why it is a taboo for us to wash the pads in water to remove the blood. That is why many refugee girls shun away from the reusable pads," she reveals.

"If you use the pad, you are supposed to clean it. But when I clean it in water, I see the blood. I am not used to seeing blood in my culture," says Jackie, a South Sudanese in one of the schools.

Betty, a senior woman teacher in one of the primary school, says that the fear is shared among the Dinka girls, resulting in many of them not wanting to use the reusable pads.

"Instead they buy disposable pads or they decide to stay home until they are through with the periods, something that is not good," she says.

Meanwhile, Aryemo points out that progress is being realized as Ugandan and South Sudanese girls learn more about menstruation and gain better access to affordable and effective methods of handling their periods.

"With support from donor agencies, we are continuing to support the girls with both reusable and disposable sanitary pads to ensure that menstruation does not become a barrier to their education."