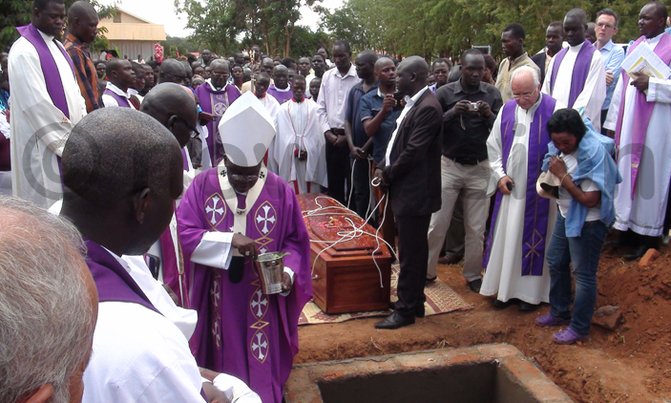 Born in Italy, he passed on at St. Mary's Hospital Lacor in Gulu
Fr. Pietro Tiboni, a former Italian priest, was on Tuesday granted his death wish to have his remains interred at the Christ the King Church grounds, the parish he helped establish in the 1970s.
Gulu Archdiocese Archbishop, John Baptist Odama, explained that he agreed for the remains to be buried in Kitgum rather than at the Cathedral cemetery in Gulu because he spent a large part of his missionary life in Kitgum.
"And more so the late requested me, he said 'Archbishop, if I die please take my remains to be buried in Christ the King' I agreed to this over one year ago. I said 'yes, your wish is granted'," Odama said to the applause of mourners.
In his sermon based on 2 Timothy 4:7, Odama called on Christians to embrace the love of God which should be allowed to win over violence, hatred, division, aggression and killings.
He said though he knew the 92-year-old Tiboni only a little, whenever he met him, those few encounters left an impression.
"To me always he looked innocent but a man of conviction about being a Christian, a priest and a missionary. Where he had to spread that message in Christ, in God through his life as a priest and with determination everywhere he went. And he challenged people to focus on Christ," Odama said.
Priests and ordinary Christians, whose lives were touched or shaped by Fr. Tiboni over the years, gave glowing testimonies of his life; depicting a man who tried to follow in the footsteps of Jesus Christ.
Kitgum LC5 chairman Jackson Omona urged the Christians to emulate the life of Fr. Tiboni. He said that from what he read and heard, it was evident that Fr. Tiboni completed his race, his mission and calling as he was ordained.
"He left a legacy of love, forgiveness and passion for his mission. He was a dedicated servant of God, those that he mentored especially the priests, I think you go back today with a challenge of what legacy will you leave behind," Omona said.
Fr. Tiboni, who was born in Tiarno di Sopra in Italy, passed on at St. Mary's Hospital Lacor in Gulu on June 13th, from Parkinson's disease which had left him bedridden him for close to a year.
Mourners travelled all the way from Italy, Rwanda and Kenya as well as various parts of Uganda to attend his sending off.