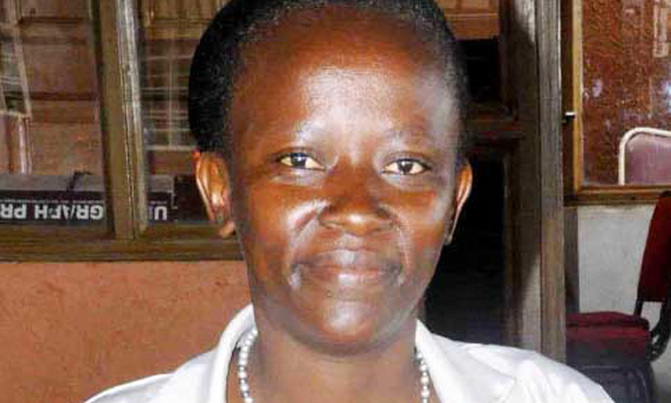 Nankanja has been married for 14 years to Samuel Lasto Mukiibi and together they have three children aged: 12, 4 and 1.
Forty- three year old Ruth Nankanjja is the executive director of the Sickle Cell Association of Uganda, which she founded in 2000 to raise awareness against the condition after suffering stigma as she struggled with the disease. Nankanja directs and manages the affairs of the association, in addition to giving awareness and education talks about the condition.

Nankanja has been married for 14 years to Samuel Lasto Mukiibi and together they have three children aged: 12, 4 and 1. She talked told New Vision about living with sickle cell disease.

QUESTION: Tell us about your life

ANSWER: I am the first born of four children and growing up with sickle cell disease was tough for me. My childhood was filled with sleepless nights, full of pain and fear. I used to get painful crises in the wee hours at about 2:00am and as I cried in pain, my family would wake up to attend to me. This helped to create a strong bond among us. I was frequently admitted to hospital and as a result, I missed school a lot. My siblings do not suffer from the condition.

I also suffered a lot of stigma from pupils at school, lived in self-pity and was constantly afraid that I would die anytime.

The worst incident happened when I was in Primary Three. My class teacher was notified that I was not supposed to engage in vigorous exercises. She then shouted on top of her voice that since I had sickle cell disease and could not go for physical education, I had to keep other pupils' uniforms. From that day, other children were afraid to associate or even sit next to me in class.

My classmates would also say that their parents told them that I would not grow up, which forced me to hide my condition and challenges from other people. Those who knew about my condition heard from elsewhere.

However, after completing university, I was prompted to come out and talk about my condition to fight stigma. I felt there were many families facing stigma and discrimination and I needed to team up with people suffering from the disease so as to encourage and support one another.

Q: What is your treatment routine?

A: I take a folic acid tablet daily and I have been doing so for my whole life. Folic acid is meant to help in the formation of blood and fight anaemia. I also take fansidar monthly to prevent malaria because it used to be a major cause of painful crises, especially during childhood. I sleep under a treated mosquito net and apply a mosquito repellant to prevent mosquitoes from biting me before I sleep.

Q: What is the main challenge that you face as someone living with sickle cell disease?

A: My biggest challenge is getting painful crisis. Although I do not get them in adulthood, I know I have not outgrown them. If I had choice, getting painful crisis is something I would request to be taken out of my life. The pain is too much that I cannot equate it to anything not even labor pain!

Q: How do you cope with painful crises?

A: I do the basics, especially taking at least five litres of fluids every day, regardless of the weather. After brushing my teeth in the morning, I take half a litre of water and later take another half a litre of tea. While at work, I keep taking juice in intervals of one hour in quantities of half a litre

Keeping hydrated helps to prevent the cells from sickling and when they do the fluid flash them out before they cause pain.

Q: What diseases do you regularly suffer from?

A: I rarely fall sick. This is partly because I eat a balanced diet which helps to boost my immunity. The last time I fell sick was seven years ago when I suffered from pneumonia and I was admitted at Mulago Hospital. Being the head of an organisation, I work under pressure, so to prevent stress, I add food supplements to boost my immunity, appetite and regulate my stress levels.

Q: What complications have you suffered that are brought on by sickle cell disease? How did you handle them?

A: In 2010, I suffered from an aplastic crisis and was bedridden for six months. The condition involved my bone marrow stopping to manufacture red blood cells and my right leg collapsed. I could neither stand nor walk. I was using a wheelchair and never thought I would get back on my feet again. I also became anaemic, got malaria and was given a blood transfusion for the second time in my life. The first time was when I was six months old. The condition was managed by physiotherapy which I did three times a week and massage and steam bath twice a week. Gradually, from a wheelchair I started using a walker, crutches until I was healed.

Q: You have three children; isn't pregnancy risk for someone with sickle cell disease? How did you prepare yourself for it?
A: My husband and I went for screening before getting married. He does not carry the sickle cell trait. This meant we would have healthy babies, although they would carry the sickle cell trait from me. So, all our children are healthy but carriers of the sickle cell trait. If they married someone with the sickle cell trait, they would have children with sickle cell disease. Therefore, they should avoid such a scenario.

I was lucky that during pregnancy, I never suffered severe symptoms like morning sickness, nausea or vomiting. I had a good appetite during pregnancy. I would eat four meals a day and snack on fruits at intervals. Besides, I kept monitoring my hemoglobin levels and fortunately it did not drop because I feed on a balanced diet.

Q: What do you avoid so as to remain in good health?

A: I avoid stress because it kills. Every time I get a problem I pray to God to give me the strength to go through it. I also avoid straining myself; I do not work until I get exhausted. Being a director of the association, I do a lot of managerial work. Though still, I take on the work load I can handle I avoid self -medication and whenever I fall sick, for example with malaria or an infection, I seek medical treatment.