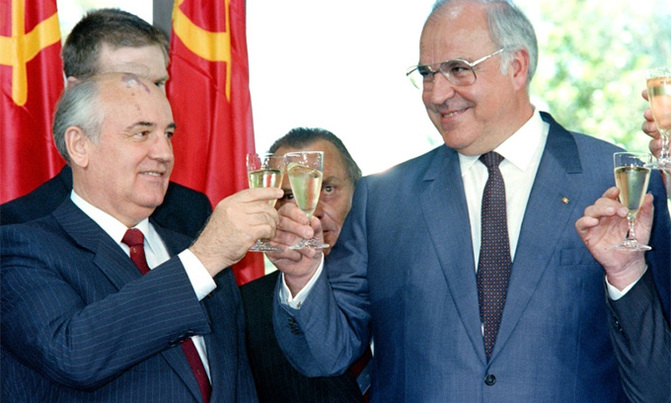 Kohl helped long-divided Germany navigate the traumatic transition to a reunified country, and worked with France's Francois Mitterand to shape the European project.
Germany's longest serving post-war leader Helmut Kohl, the father of national reunification and an architect of European integration, died Friday at the age of 87.

Kohl helped long-divided Germany navigate the traumatic transition to a reunified country, and worked with France's Francois Mitterand to shape the European project.

He also pushed Germans to part with their cherished Deutschmarks in favour of the single European currency, the euro.

German Chancellor Angela Merkel gave a moving tribute to her mentor, saying "Kohl changed my life decisively".

Merkel, who grew up in the communist German Democratic Republic, said that thanks to him, she, "like millions of other people, could leave a life of GDR dictatorship and enter into a life of freedom".

"All that has happened in the past 27 years from then until today would have been unimaginable without Helmut Kohl," she said.

"It will be a while before we will truly be able to measure what we have lost with his passing," Merkel said, adding that she was "personally thankful that he was there".

"I bow down before his remembrance," said Merkel, who described Kohl as a "great German and great European".
Tributes also poured in from abroad, with former US president George H.W. Bush hailing "one of the greatest" post-war leaders, and European Commission chief Jean-Claude Juncker honouring him as the "very essence of Europe".

Kohl died peacefully in his bed at home in Ludwigshafen, in the southwestern state of Rhineland-Palatinate, said the Bild newspaper, adding that his wife Maike Kohl-Richter was by his side.

Mourning his mentor and friend, Juncker said: "Helmut Kohl filled the European house with life -- not only because he built bridges to the west as well as to the east, but also because he never ceased to design even better blueprints for the future of Europe."

Bush, describing Kohl as "a true friend of freedom", said: "Helmut hated war -- but he detested totalitarianism even more".

"Working closely with my very good friend to help achieve a peaceful end to the Cold War and the unification of Germany within NATO will remain one of the great joys of my life," added the former US president.

France's President Emmanuel Macron posted on Twitter a picture of Kohl standing with the late Mitterrand, saying: "An architect of united Germany and Franco-German friendship: with Helmut Kohl, we have lost a great European."

'Mantle of history'

Born into a Catholic family on April 3, 1930 in the industrial city of Ludwigshafen, Kohl studied history and political science and rose quickly through the conservative Christian Democratic Union (CDU) party, his ever-smiling blonde first wife Hannelore, with whom he had two sons, by his side.

He became chancellor of West Germany in 1982 and oversaw its reunification with the East.

As the Cold War ended with the Berlin Wall coming down in November 1989, he moved to "grab the mantle of history," as he later said, forging a political stature commensurate with his towering height.

Merkel lauded his contribution to German and European integration in 2012, on the 30th anniversary of his becoming chancellor, declaring that Europeans were "united in our luck" thanks to Kohl's efforts.

Kohl considered Konrad Adenauer -- West Germany's visionary first chancellor, who allowed the nation to make a fresh start after World War II -- as an ideological forefather.

'Don't close doors on Britain'

Mentor to Merkel, Kohl was later ousted by his protege, who urged their party to drop the self-declared "old warhorse" when he became embroiled in a campaign finance scandal in 1999.

After retiring from politics, he suffered from health problems, and following a serious fall in 2008, had been wheelchair bound.

Having also suffered a stroke, he had difficulties speaking and was rarely seen in public in recent years.

Kohl married Maike Richter, an economy ministry aide 35 years his junior, after his fall, and seven years after his first wife Hannelore died.

After Britain voted to quit the EU, Kohl gave a rare interview to Bild in 2016, urging the bloc's member states to not apply too much pressure on London.

The article, which did not include direct quotes, said he "pleaded for prudence and warned against unnecessary toughness and haste" and warned that it "would be an enormous mistake for the EU to close its doors now".