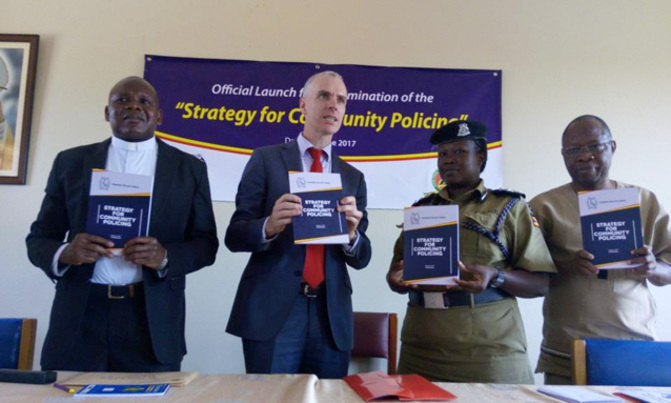 The strategy emphasizes neighbourhood watch by encouraging locals to always monitor activities of their neighbours
Police, Irish Embassy in conjunction with John Paul II Justice and Peace Centre, a religious organisation on Tuesday morning launched a community Policing strategy during a function at the organisation's offices in Nsambya, a Kampala suburb.

The strategy emphasizes neighbourhood watch by encouraging locals to always monitor activities of their neighbours, establishment of more community police stations at parish levels, mediation between Police and the citizens among others.

The strategy was drafted by Makerere University Department of Political science and it involved a one and half year research before completion. A lot of communities in districts such as Mbale, Arua, Kampala Metropolitan areas were engaged in consultative meetings during the survey.

"There's also orientation of police patrol officers to emphasize non-emergency servicing and creation of neighbourhood watch groups," said Susan Mwanga, the head of Makerere University department of Political sciences.

Mwanga said the strategy also emphasizes accountability and evaluation on the success of activities involved and will be monitored by Police organisations and other security agencies. She also said there shall always be periodical evaluations on impact, efficiency and sustainability.

The Irish Ambassador to Uganda, Donal Cronin, said community policing will re-establish the lost Police trust among the public. He said the strategy is service-based as opposed to use of force by armed Police officers.

Asan Kasingye, the Police Spokesperson, noted that there had been community policing since 1989, but has failed to yield any results and was optimistic that the developed strategy will improve the working relationship between public and Police. He attributed the problem to lack of proper guidelines in the operation of crime prevention.

Fr. Leonard Olobo, the board chairman for Paul II Justice and Peace Centre, noted that the Police have lost their reputation because of political influence.

"Peace can only be achieved through working together. The Police should also fulfill its mandate of protecting and serving the people, but can only be successful with the presence of other partners such as the public," he stated.

About crime preventers
In 2014 during the Police Centenary celebrations at Kololo grounds, President Museveni emphasized empowering of crime preventers so that they help Police in their operations.

Police has since then recruited many crime preventers; however, the method came under criticism by some members of public who accused them of being partisan.