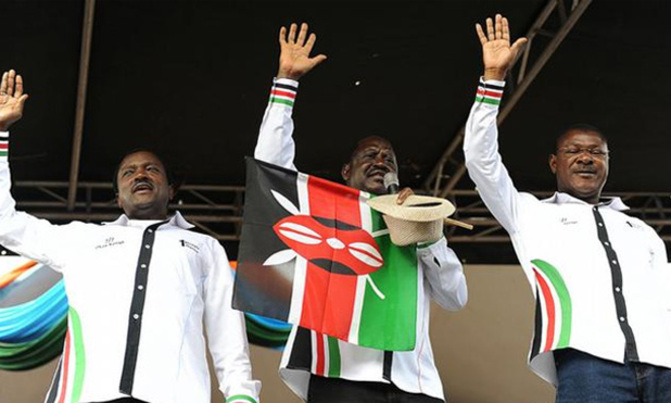 Since the naming of Raila Odinga as the presidential candidate on April 27, NASA has held less than six rallies. That is not the major issue here; the issue is how they are "covering" Kenya during their rallies.
By Graham Andaye in Nairobi

There is growing concern from among the National Super Alliance (NASA) supporters over the strategy of campaigning which most claim is a recipe for failure in as much as the alliance is taunting a 10 million-vote target ahead of August presidential poll.

Since the naming of Raila Odinga as the presidential candidate on April 27, NASA has held less than six rallies. That is not the major issue here; the issue is how they are "covering" Kenya during their rallies.

When NASA went to Nakuru County for instance, a key swing vote are, they just held a mega rally at Afraha Stadium.

On the other hand, when President Uhuru Kenyatta and his deputy William Ruto went to Nakuru, they traversed the whole County from Molo, Subukia, Gilgil, Naivasha, Bahati, Njoro to Kkuresoi.

This has been the strategy employed by Uhuru and Ruto. They have dubbed their campaigns 'meet the people tours'. Literally knocking doors in villages.

Analyst hold that the strategy might prove effective and make nonsense of the numbers that NASA is taunting in the few and far between rallies they hold.

NASA leader Raila Odinga has come under fire for tagging along all the MPs, Governors and MCAs in his major rallies, who then waste precious time introducing themselves.

Uhuru on other hand meets leaders of a particular region behind the scenes to weigh the mood on the ground and come up with his key messages before appearing to locals with only a few notable national leaders, the rest, it is believed, remain behind mobilizing votes.

In an election where every vote will literally count, many believe the opposition alliance, with five principals, is not doing anything near exploiting its full potential.

After receiving his nomination certificate in Nairobi two weeks ago, Raila Odinga and the NASA team only held one huge rally in Nairobi.

The same cannot be said of Uhuru Kenyatta who held a series of road-side rallies across Nairobi and held a mega rally upon receiving his nomination certificate from the Independent Election and Boundaries Commission (IEBC)

It was initially said that after the naming of Raila as the flag-bearer, the five principals- Isaac Ruto, Musalia Mudavadi, Kalonzo Musyoka and Raila Odinga would split up to consolidate support from their respective bases.

Among other things that the leaders will do while on their retreats include reassuring supporters from Western and the Ukambani regions that NASA's presidential line-up is the winning formula.

The coalition's flag bearer Raila Odinga was set to lead by example by taking a major tour of the entire Nyanza region, while Isaac Ruto was to take the Rift-Valley region by storm, where he would push the NASA manifesto.

But it appears the opposition team can only hold meaningful rallies when they are together and the plan to split could have been shelved.

What has even surprised many is the fact that unlike their competitors, NASA has restricted itself to a maximum of two rallies in a day.

Uhuru and Ruto on the other hand are holding up to 15 rallies in a single day as they traverse the country, aware that every vote counts and they are facing a formidable opposition.

On June 9 for instance, William Ruto hit social media with Kenyans marveling at his energy after the deputy president held three rallies across Narok County, a key battle ground for the 2017 General Election.

Besides working hard on the campaign trail, Uhuru and Ruto's campaign strategists have enlisted key social media influencers who are spreading positive messages of their administration and helping change perceptions online.

A simple search of NASA or Raila on search engines brings up negative propaganda about Raila Odinga and this is the handiwork on Jubilee Party.

The opposition seems to have no strategy online or offline and only banking on the belief that Kenyans are fed up with the Jubilee administration's which has been riddled with high cost of living, corruption and unemployment.

With less than two months to the General Election, it remains to be seen the strategy that will be employed by the opposition with every one of their supporters hoping the five principals had saved the best for last.