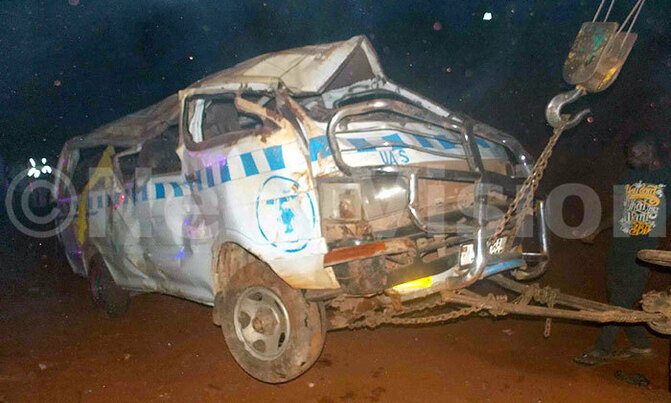 The driver of the sugarcane-laden truck drove off after the crash.
PIC: The taxi was mangled in the crash and the wreckage was later towed to the police station. (Credit: Emmanuel Balukusa)

ACCIDENT

BUIKWE - A driver of a commuter taxi was killed when his vehicle collided head-on with a truck along the Kayunga-Njeru highway in Buikwe district.

The 13 other occupants of the ill-fated taxi escaped with injuries and were transferred to various health facilities for treatment, according to police.

It is understood the driver of the sugarcane-laden truck drove off after the crash.

Witnesses said Zaidi Kirya, the taxi driver, "tried his best" to avoid the imminent collision, but lost control of the vehicle on a road still under construction.

But it was not immediately clear who was to blame for the accident.

Residents of Nankwanga village, where the crash occurred, pointed the blame finger on SBI Contractors, who are working on the road. They claimed workers of the company do not put warning signposts at danger spots under work.

Njeru division police commander Christopher Kiggundu Katumba confirmed the death of Kirya and was also critical of the road contractors.

"Our friend wouldn't have died if the SBI Contactors had not dumped their materials which they use to construct the ditches. Zaidi fought hard to save the lives of others. The driver of the sugarcane truck took off with his vehicle and investigations are going on," he said.

The injured victims were rushed to Wakisi Health Centre III, Kangulumira Health Centre III and Jinja Regional Referral Hospital.

"Death and accidents are to occur every time the SBI contractors do not come up with the solutions to these heaps of sand murram and stones that they dump all over the Njeru-Kayunga road," said Abdul Sozzi, a taxi driver who plies the same route.

On his part, Katumba called on all motorists to abide by traffic rules and always take their lives as priority while on the road.