Bobi Wine's had musicians such as David Lutalo, King Saha, Mary Bata and others
Kyadondo East by election campaigns on Sunday got more competitive with former presidential candidate Dr. Kiiza Besigye canvassing votes for Forum for Democratic Change (FDC) flag bearer Apollo Kantinti.
Besigye and Kantinti and top leaders of FDC held a procession from the candidate's home in Kabubbu Parish, halting traffic along Gayaza Road with a convoy of supporters moving in vehicles and on motorcycles.
Other FDC leaders were the party president Maj. Gen. Gregory Mugisha Muntu, FDC chairperson Wasswa Birigwa, secretary general Nathan Nandala Mafabi, coordinator Ingrid Turinawe among others.
On the other hand, musician Bobi Wine who said he was not scared by the events unfolding decided to go on with his program, holding a rally in Nangabo Parish at Kitagobwa playground.
His crowds were visibly bigger than those of Kantinti even though Kasangati is where Besigye resides.
The two sets of supporters however bypassed each other at Wampeewo.
Due to too much traffic jam, Besigye continued to Kitezi while Bobi Wine decided to walk by foot from Wampeewo to his rally venue.
While at the FDC rally, Besigye said any candidate in the race who is not for the ruling NRM party is his friend.
He however added that it would be unfair for him not to support Kantinti because he was nominated and voted for in 2016 before being "unfairly ousted by court".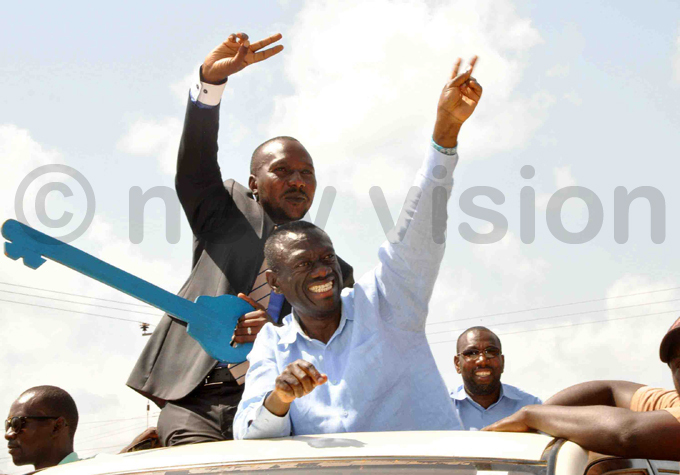 "If I asked all those other candidates in the race, would any of them confess that Kantinti never won the 2016 poll? None of them would dare. Therefore I believe in fairness, and Kantinti invested too much in his previous victory which is the reason why he deserves to complete his term of office" Besigye stated.
Besigye said that while in the convoy from Kantinti's home to the rally venue, supporters kept on telling him that Kantinti had wronged them since he was elected by not taking their phones calls and that he never went back to talk to them after he won the seat in 2016.
Besigye apologized on behalf of Kantinti and asked him to change once he is voted back. Kantinti also apologized and asked voters to consider sending him back to Parliament so that he fulfils his 5 year manifesto.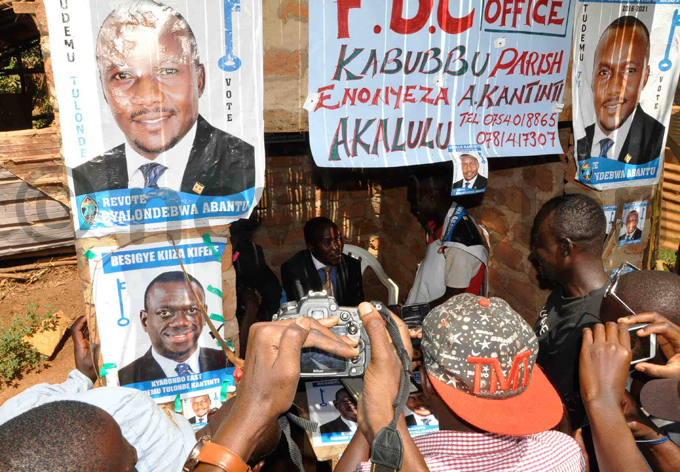 Kantinti opens a campaign office which was voluntarily offered by supporters at his home town in Kabubbu. Photo by Ashraf Kasirye
Bobi Wine's had musicians such as David Lutalo, King Saha, Mary Bata and others.
He also had with him Uganda Young Democrats (UYD) officials led by Moses Bigirwa and Charles Wasswa, and the deputy spokesperson of the Democratic Party (DP), Alex Waiswa as well as Kasangati Mayor, Tony Ssempeebwa and former presidential candidate Samuel Lubega Mukaku campaigning for him.
Other Candidates Sitenda Sebalu of NRM, Lilliane Babirye Kamome (DP) plus independents Nkunyingi Muwada and Dr. Sowedi Kayongo also held processions and rallies though they barely had the same crowds as those of Bobi Wine and Kantinti.