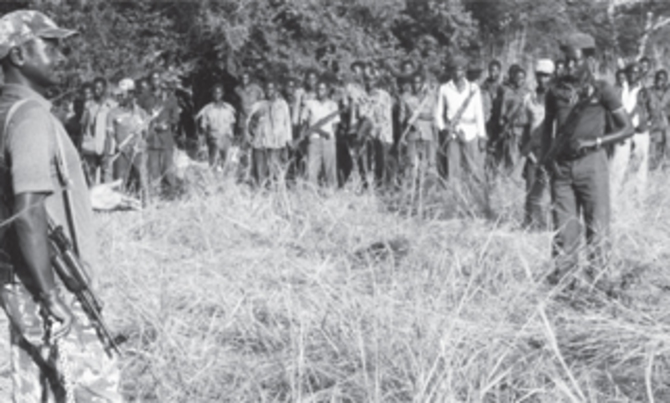 AT THAT TIME, THE PRA REBELS AS THEY WERE CALLED WERE BARELY 200 IN NUMBER. ANY BIG LOSSES, INCLUDING OF COMMANDERS WOULD HAVE DEMORALISED THEM AND PROBABLY ENDED THE WAR

For the last four months, a group of fighters had been attacking military installations, mainly in Luwero and Kiboga districts.
On the night of February 6, they had attacked Kabamba Military Barracks in Mubende District in 1981 and grabbed a few guns, before withdrawing through Kiboga district, into present day Nakaseke district.
"When they arrived here, they started meeting local leaders and telling them about the struggle," says Erias Kiwanuka, who eventually became one of the first Resistance Council (RC) chairpersons.
One of the local opinion leaders that they met was Edidian Luttamaguzi, a resident of Kikandwa, near Semuto in Luwero district. Units of fi ghters started setting up transit camps in Kikandwa, including near Luttamaguzi's home.
Today, Kikandwa village, looks like any other village as one drives through it, but on the morning of June 9, 1981 the village was fl ooded with blood.
On that day, nine residents, including Luttamaguzi were killed by a force of Uganda National Liberation Army (UNLA) soldiers. It is said that Luttamaguzi and his colleagues refused to mention the hideout of the rebels.
The story goes that on June 9 1981, a unit of UNLA soldiers raided the village in search of the rebels, including their leader, Yoweri Museveni.
"He was hiding in the kibanyi as Luttamaguzi and his colleagues were tortured to death," says Moses Mukasa, a farmer from Kirema village.
Then, in a twist of tales, Epraim Kizito from Semuto says he is sure the then rebel leader climbed a tree and watched the events as they unfolded.
But then, these tales only added to the mystery that rebel leader Museveni was shrouded inmystery while he was still in the bush. However, Museveni was nowhere near Kikandwa, on the day of the killings.
Museveni visited the home of Luttamaguzi in early June 1981. However, he left the home by June 3 and moved to another home, near Matugga in Wakiso district.
Museveni had in February or early March 1981 met Luttamaguzi, through one of his guides Bomboka. Bomboka was later to die in the war.
On the day he met him for the first time, the fighters were moving from their very fi rst bases around Lwamata and Bukomero in Kiboga to areas of then Luwero, but specifically in present day Nakaseke.
Bomboka guided the group through Nakaziba, crossed River Mayanja at Kakinga near the present day Singo Military Training base, where Somalia-bound peace keeping soldiers are trained.
The fi ghters, moving at night, avoided Kapeeka town which had government soldiers and ended up in Kirema, near Kikandwa. Luttamaguzi hosted them for several days, before they moved on.
From that time in early March, Luttamaguzi became a focal point in the struggle. "Even during the April 1981 attack on Kakiri barracks, the group of fi ghters passed through Luttamaguzi's farm," Lt John Kaddu, Luttamaguzi's brother and former RDC Nakaseke district, said. CLICK HERE FOR MORE ON THIS STORY
By Nelson Kiva
The two heroes' monuments in the centre of Lwamata town council and at Ddwaniro subcounty headquarters in Kiboga district are a reminder of a heartbreaking contribution of the area to the National Resistance Army (NRA) liberation struggle.
Lwamata, Bukomero and Ddwaniro are areas of prominence in the National Resistance Movement (NRM) books as they witnessed some of the fiercest battles between NRA rebels and government forces at the infancy and later stages of the five-year war that brought President Yoweri Museveni to power in 1986.
In recognition of this, Kiboga hosted the 2015 national Heroes' Day celebrations at Ddwaniro subcounty headquarters.
President Museveni unveiled a monument at the sub-county headquarters in honour of combatants, collaborators and civilians who died in the bush war.
Ddwaniro sub-county chairperson Aaron Mugenyi says they have since maintained the monument in an attractive state since it signifies the great attachment the area has with the current regime.
He says because of its contribution, the sub-county has benefited from a number of government programmes such direct cash support to the veterans group in Ddwaniro, a milk cooler, Operation Wealth Creation and the renovation of sub-county headquarters, among others.
The Kiboga district NRM vicechairperson, Godfrey Nume, who hails from the same sub-county, says the monument had been long overdue. However, residents say social services were yet to match the role they played during the struggle.
The Ddwaniro sub-county LC5 female representative, Ruth Naku, says the area still lacks electricity, community access roads are in bad shape, education and health sectors are wanting, on top of scarcity of water for both production and domestic use.
The Kiboga district chairperson, Israel Yiga, says it is about eight years since the President promised the area electricity.
"In this district, electricity only followed the Hoima-Kampala highway, yet all areas were in need of electricity. For example, in this sub-county, we have over eight milk coolers and five maize mills that need electricity to reduce on the cost of production," he says.
The Kiboga resident district commissioner, Nickson Kabuye, says Lwamata Heroes monument, established in the 1990s, has since been renovated as a honour to the fallen heroes.
The Lwamata sub-county chairperson, Anthony Kibuuka, says the area was granted a town council status. Muwanga, Kiboga town council and Bukomero were the other areas that were affected by the war. CLICK HERE FOR MORE ON THIS STORY
ADVERTISERS
By John Semakula
The sight of soldiers walking with artificial limbs welcomes you to the Chieftaincy of Mubende Rehabilitation Centre. They are a reminder of Uganda's postindependence bloody history.
This is the facility where injured soldiers and Uganda's unsung heroes are taken for rehabilitation after sustaining injuries during war. Some of the over 2,000 men and women at the facility are blind and deaf.
They sustained injuries while defending Ugandans at different war fronts in and outside the country before they were relegated to Mubende district.
Army spokesperson Brig. Richard Karemire says the UPDF treats the injured soldiers as their heroes.
"They sacrificed their lives to protect the country," he says. Karemire also notes that much as the soldiers are duty-bound to protect their country at war, they are human.
But during war, as civilians flee the rattling gunshots, soldiers head to battle zones as though they are made of metal and sometimes take positions amidst flying bullets.
"War is not soccer; you go ready to die," Karamire says. "That is why we hold our injured soldiers in high esteem."
He says in a country with a bloody history, there is an undoubtedly huge number of injured soldiers.
"To ensure that they live a meaningful life; UPDF supports injured soldiers to recover, before releasing them to rejoin civilian life," he says.
Karemire explained that whereas UPDF has no problem keeping the soldiers at the facility and taking care of them, many request to be released after recovering.
Simon Mulongo, a security expert, says soldiers who sustain injuries while fighting critical battles in defence of the country should be considered heroes.
"They are heroes and should never be relegated to the backyard," Mulongo says. "When you treat injured soldiers as heroes, you create hope, courage and determination among serving army officers to persevere during future battles."
He suggests that injured soldiers should also be brought to the limelight whenever there is a public function.
"They should be allowed to march in their wheelchairs as heroes and on their artificial limbs during function," Mulongo says. CLICK HERE FOR MORE ON THIS STORY
ADVERTISERS
UGANDA ELECTRICITY DISTRIBUTION COMPANY LTD
[asset_library_tag 4ed3efc5-73b1-47db-8496-7447732eb313,MINISTRY OF DEFENCE AND VETERAN AFFAIRS]